5 Things You'll Learn From T2 Trainspotting
20 January 2017, 17:53 | Updated: 12 December 2019, 11:11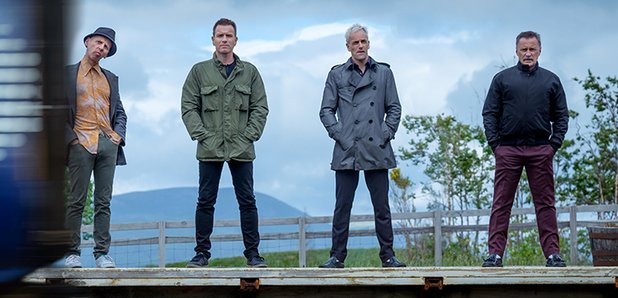 The long-awaited Trainspotting sequel hits cinemas next week... and Radio X has had a sneak preview. NO SPOILERS!
Radio X was lucky enough to see T2 Trainspotting a week ahead of its release, and - while we're not the kind to ruin the story for everyone else - we will tell you that it MASSIVELY lives up to expectations.
It's fair to say after 20 years since the 1996 original, there's a generation of fans that have grown up with this film and want to know if their favourite characters are as good as they remembered, or the film is teaching us anything new.
So, sit back and relax as we give you a run-down of what you can learn from Danny Boyle's sequel with absolutely NO SPOILERS, because Danny Boyle told us not to... we promise.
Here's five things you'll find out from watching T2 Trainspotting and our verdict of the film:
1. Which of the characters have families and who doesn't
After 20 years of potentially making bad decisions, it isn't hard to imagine that they might have a few wee bairns under their belts. The only question is... are any of the scrogs actually in the picture?
2. Who's addicted to what
The film's trailer teaches us that Renton seems to have replaced an addiction to skag for an addiction to running, but who can say how long it lasts? As for Spud, it's quite clear that he isn't coping too well, and has struggled to leave the past - and his addiction - behind him. It's not all about heroin though, and the likes of coke and viagra also play a part in this film.
3. What Renton's been up to all this time
Yes, we know he's been in Amsterdam for 20 years, but this film will (kind of) let audiences know exactly what he's been up to. If you're looking for a detailed and plausible back story, however, look elsewhere. T2 tells you just enough to let you get fully involved in the action in the present day... which doesn't take too much.
4. If Begbie is still crazy AF
We don't think we'd be spoiling anything by answering this question with a big, fat YES. Despite Francis Begbie being incarcerated for 20 odd years, it hasn't dulled his psychotic nature, or his appetite for sadistic violence. Add a huge grudge against Renton into the mix, and you have a very angry Begbie on your hands.
5. If the characters just doomed to repeat their mistakes
We're not gonna lie. This film is chock-full of nostalgia, which means loads of nods to the original... and plenty of regression from Begbie, Sick Boy, Renton and Spud. All four characters do show a hint of promise throughout the film, but you'll have to watch it to see if any of them manage to break from their destructive cycles.
The Verdict?
Danny Boyle's sequel does live up to its expectations as much as can be expected, with cracking cinematography, world-class acting and a laugh-out-loud script. However, if you're looking to watch an outstanding film in its own right, you're probably in the wrong place, because T2 is very much a homage to its iconic original.
Watch the trailer here: