These Are The Top 10 Movies To Watch On A Flight
17 September 2017, 08:00 | Updated: 19 September 2017, 18:49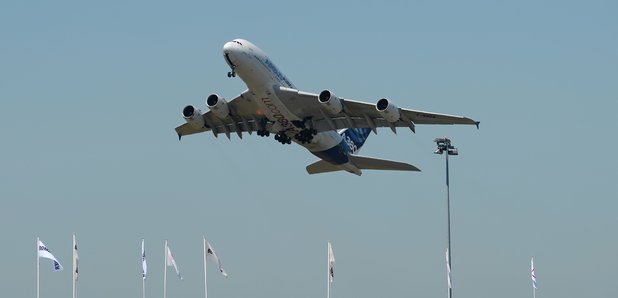 Would you plonk one of these on during a long haul flight at any point?
Brits claim that watching films on a plane is the biggest perk of long haul flying, according to a new report… and the 10 best films are mainly comedies, according to a poll.
Gatwick Airport asked travellers which movies they'd most like to see on a flight and the results were surprising.
The Top 10 movies to watch on board a flight*
1 Bridesmaids
2 The Hangover
3 Meet the Parents
4 The Shawshank Redemption
5 Jason Bourne
6 Forrest Gump
7 Groundhog Day
8 Bridget Jones's Diary
9 Pretty Woman
10 Slumdog Millionaire
(*Based on responses to Gatwick's research)

The report also claims that more than one in ten Brits (11 per cent) admitted to having cried at a film on a plane.
And it appears that men are more emotional in-flight movie-watchers than women – a sixth (16 per cent) confessed to being more likely to sob while watching a movie in the air than on the ground, compared with just six per cent of females.
Biologist Dr Emily Grossman, said: "There are many reasons why our emotions may feel heightened on a flight and one of the most interesting is a possible physiological link between altitude and emotion.
"Some believe that the slight reduction in oxygen levels at high altitude might affect the levels of serotonin and dopamine in the brain, thus altering our mood and potentially making some of us more susceptible to feelings of sadness.
"Altitude can certainly make us feel more tired, which is known to decrease our ability to be able to manage negative emotions, perhaps explaining our reduced threshold for tears."
In spite of their potential to make some of us weep, in-flight movies are the favoured means of entertainment on long-haul flights for the majority of Brits (52 per cent).
Many passengers are also using the opportunity to enjoy a 'Jet-flicks' binge, with 54 per cent revealing the only time they would watch two or more films back-to-back is while on-board a plane.

Given the heightened emotions involved, it's perhaps unsurprising that comedy is the favourite on-board film genre of the majority of Brits (51 per cent). This is followed by action movies (34 per cent) and dramas (32 per cent) – although not everyone chooses to watch what they necessarily want to, as one in five Brits (20 per cent) admit to avoiding certain movies on flights that they would normally watch at home to prevent embarrassment.