Samuel L. Jackson Stole The L Sign From Lorraine
2 March 2017, 16:30 | Updated: 19 September 2017, 18:29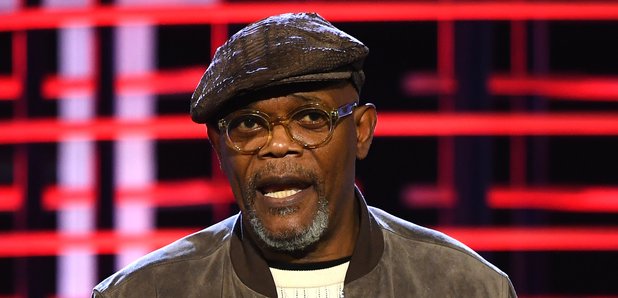 The Kong actor has proved once again what a legend he is after visiting the daytime show and making off with some merchandise.
Samuel L. Jackson stole the letter L from the set of ITV's Lorraine following his appearance today (Thursday 2 March).
The 68-year-old actor, who stars in Kong: Skull Island, appeared on the ITV show alongside Brie Larson to promote the upcoming film, but left with a keepsake to decorate his own place with.
We hope the rain holds off for you @SamuelLJackson and @brielarson! Enjoy your visit to the UK , we can't wait to see #kongskullisland pic.twitter.com/L7OlzzyJkE

— Lorraine on ITV (@ITVLorraine) March 2, 2017
Christine Lampard - who is standing in for show host Lorraine - told viewers: "Apparently Samuel L. Jackson took such a notion to some of our set, you can see the L behind me here, they are all over the place obviously L for Lorraine clearly, but it's part of the L of Samuel L. Jackson and he wanted it and he's taken it home with him.
"So part of our set, look there's an empty space over there on the table, it was there, Lorraine will never notice I'm sure it will be fine when we tell her who took it."
When asked about this year's Oscars debacle which resulted in La La Land wrongly being announced as winner of Best Picture, before it was correctly given to the cast and crew of Moonlight, the Pulp Fiction star said: "It was like any other night in Hollywood, it was fine."
Watch the final trailer for the film here: