Did Ricky Gervais Fall Out With Karl Pilkington And Stephen Merchant?
15 March 2018, 14:38 | Updated: 30 April 2018, 13:24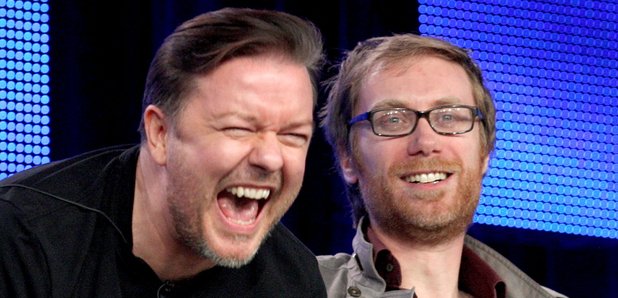 Ricky Gervais has responded to rumours that there was a "rift" between his former colleagues Stephen Merchant and Karl Pilkington, saying "I purposely don't answer [the rumours] because it annoys them."
Speaking to the NME, Gervais - who has launched his new stand-up show, Humanity, on Netflix this week - was asked if he had fallen out with Steve and Karl, as the trio hadn't worked together for a long time.
He said: "No no no, I haven't, I've always been doing my own thing, and now they are as well. It's not a divorce thing."
Asked if he would get Karl in a divorce settlement with Merchant, Gervais laughed: "Oh, I would. In a little cupboard."
Gervais famously co-wrote the hit TV sitcom The Office with Merchant, and the pair worked on the follow-up shows Extras and Life's Too Short, while Pilkington worked with Ricky on An Idiot Abroad and Derek.
The trio were most famous for their shows and podcast on Radio X's predecessor XFM, which led to the team setting up their own show, which became "the most downloaded podcast ever". The rumours about a falling out intensified when it became apparent that Merchant wasn't involved in the film David Brent: Life On The Road in 2016.
Speaking on Reddit's Ask Me Anything last year, Karl said: "We ain't fallen out but I hardly ever see either of them. Doing the podcasts used to mean we had to meet up but since we knocked them on the head we've just been getting on with our own things. Can't say I've missed them that much though to be honest.
"One of the last times I saw Ricky he farted on my head so I'm not in a rush to meet with him anytime soon."
Watch Ricky Gervais talk about his hero David Bowie here: