PHOTOS: Pat Butcher Gets Stoned On Pot In New ITV Show
7 November 2017, 14:47 | Updated: 7 November 2017, 14:56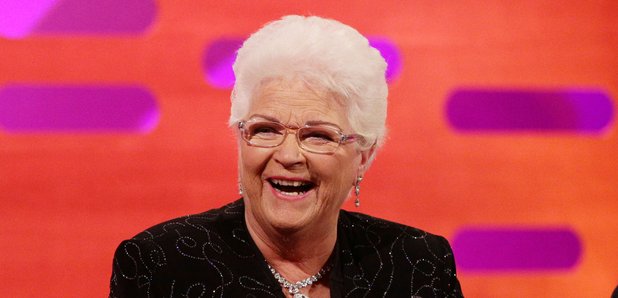 Pam St. Clement joins a line-up of national treasures on a cannabis-filled US road trip for upcoming programme Gone To Pot.
Pam St. Clement has experimented with cannabis during filming for new ITV travel show Gone To Pot.
The EastEnders actress - who played Pat Butcher in the soap from 1986 until 2012, with a guest appearance in 2016 - heads on a US road trip along with the likes of Linda Robson and Christopher Biggins.
See some pics of the show below:
Yes that is Pat Butcher, aka Pam St Clement, getting high on ITV's new senior stoner show Gone to Pot Amazing pics https://t.co/rBDw1NJhuJ pic.twitter.com/kvEgO0kig9

— Dan Wootton (@danwootton) November 6, 2017
The soap star royalty revealed: "We were taken to this warehouse . . .  there were easels, tables and chairs. We jumped in with both feet and sat down and started to paint this cactus.
"The guy came round with this joint and I took a puff, and [dart player Bobby George] took a puff then we got on with this painting. I thought, 'Oh well this a terrible painting and I don't know what to do with it'. I made it into an alien in the end. It wasn't a cactus at all."
However, it wasn't the only experience Pam - who also stars alongside John Fashanu and Bobby George on the three-part programme - had with marijuana on the show.
The celebrities also visited a nunnery where the sisters farm weed, and the actress admitted it was "powerful".
She told The Sun newspaper: "This person came along with a glass bowl thing with a pipe and a stem with an open top, like a mini bong, it was very delicate and she gave it to Linda then to me and she said, 'Take a puff'.
"So I took a puff and she said, 'Oh that's enough, that's enough' and I thought, 'Oh my God, this must be powerful'. I passed it on to Bobby and within five to ten minutes me and Bobby were virtually on the floor laughing it was so funny.
"I love it when you get the giggles when you shouldn't. It's wonderful -- just crying we were - so refreshing to do that, it really is."
Gone To Pot starts on ITV at 9pm on Monday 13 November.