Why Paddy McGuinness Won't Be Having A Christmas Tree This Year...
7 December 2017, 11:22 | Updated: 7 December 2017, 11:29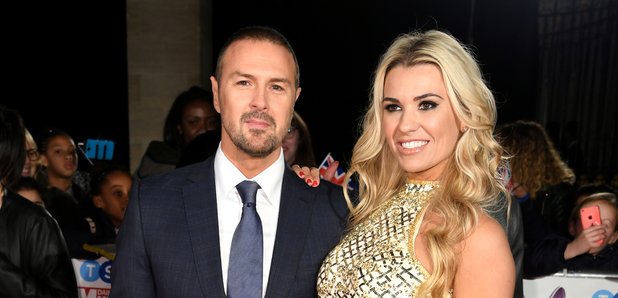 The comedian and TV personality's wife Christine has revealed the reason their family will be having a low-key Christmas.
Paddy McGuinness and his wife have decided not to put a Christmas tree up this year.
The Take Me Out host and his spouse Christine have kept their festive decorations to a minimum this time around because they don't want the bright lights and loud music to disrupt their four-year-old twins Leo and Penelope - who have autism - as they found the season to be "frightening" and confusing last year.
Christine - who found out her twins had the lifelong developmental disability last year - took to her Instagram account last night (6 December) to share a video of the family's large stockings, which have been stitched with all of their initials, hanging on the fireplace.
Christine - who also has 15-month-old daughter Felicity with Paddy - wrote: "Daddy, Mummy, Leo, Penelope, Felicity
"I think this is enough for our Christmas decorations, I'm nervous about putting a tree up, I don't think I'm going too. Last year was the most upsetting Christmas we've had, we had just been told our twins had autism and we felt very out of our depth.
"Christmas massively affects the twins behaviour. They were extremely anxious and unsettled. The Christmas lights, trees, decorations and music.. it was all too much. It was very over stimulating and with so much change everywhere it was quite frightening for our children who were pretty much non verbal, they had no understanding of what was going on.
"They both just walked passed their presents on Christmas Day. I was devastated that they didn't get up and run down the stairs really excited "like other kids". I knew nothing about autism then.
Now I'm fuelled with knowledge on their condition and I'm really looking forward to preparing them in advance to help them understand the magic of Christmas! I'm feeling confident we will have a happy Christmas this year.. With a lot less decorations! Less is more for our children, they wouldn't care if they got 1 present or 10 and that is a quality you can't buy #LessIsMore #autism #AutismAwareness #Christmas (sic)".