Noel Fielding And Sandi Toksvig To Host Great British Bake Off
16 March 2017, 18:45 | Updated: 19 September 2017, 18:29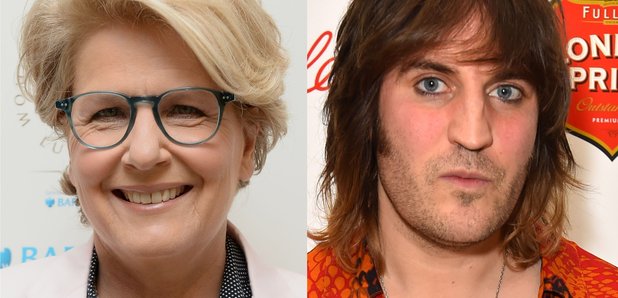 The Mighty Boosh star and the QI host will take over the Mel and Sue roles when the series moves to Channel 4.
Noel hailed his new role as a "dream come true", and he's looking forward to working alongside the Q.I. host when the popular culinary contest moves to Channel 4.
He said in a statement: "GBBO is one of my favourite shows. I've always loved brightly coloured cakes and Sandi Toksvig so this is a dream come true for me! It's basically the double."
And Sandi hailed the chance to take over from departed hosts Mel Perkins and Sue Giedroyc an "extraordinary honour" - though she's worried about matching flamboyant Noel in the sartorial stakes.
She said: "It is an extraordinary honour to part of this national treasure of a show.
"Noel Fielding is one of the nicest guys in show business. The first time I met him I felt like I had met a rather wayward cousin whose take on the world made me laugh.
"The only down side is that he has much better dress sense that I do. I spend my daytimes on Channel 4 already so it will be a treat to be there in the evenings.
As was expected, food writer Prue Leith is taking over as a judge alongside Paul Hollywood following the departure of Mary Berry.
She said: "I am just so thrilled to be joining Paul, Sandi and Noel on the biggest show on TV and I cannot wait to see what the real stars of the show – the bakers – are going to create for us. It is such an honour to be part of The Great British Bake Off team."
Paul, the only remaining face from the BBC show, is delighted with the new line-up.
He said: "I could not be more delighted by who will be joining me on the show. Prue is a hugely respected culinary legend and Sandi and Noel are warm and utterly hilarious. I cannot wait to get back in the tent with the bakers."
The series will air on Channel 4 this autumn.