Noel Fielding Pinched Paul Hollywood's Bum On Bake Off
27 August 2017, 17:06 | Updated: 19 September 2017, 18:43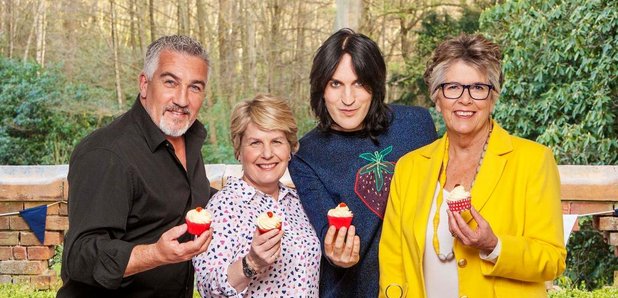 The new star of the hit TV show has been commanded by Mel Giedroyc to carry on where she left off.
New Great British Bake Off presenter Noel Fielding claims he's already pinched Paul Hollywood's bum… at the request of former host Mel Giedroyc.
The Mighty Boosh star is good friends with former presenter Mel Giedroyc and, because she misses the judge and the crew on the show, he was only too happy to pick up where she left off and flirt with the bread expert.
Noel said: "I was doing Taskmaster with Mel and I'm good friends with her. She kept saying, 'What are you doing next? And I wasn't allowed to say anything.'
"Mel was very supportive [when she found out] and said, 'Oooh I feel I should pass you some sort of baton or baguette.'
"She said it's a lovely job - there's lots of cake, lots of time to sit int he sun in a deckchair, I'll have a blast.
"Yesterday she sent me a text and said, 'Ah I miss everyone. Pinch Paul on the bum for me.' Did I?]Yeah, obviously."
Watch the first trailer for the new series, which starts on Tuesday 29 August at 8pm on Channel 4.
The 44-year-old comedian - who is fronting the show with Sandi Toksvig - was delighted to discover Paul is not as "scary" as he seems on screen, but can't help getting "hypnotised" by his striking blue eyes.
He told Heat magazine: "Paul is so welcoming. Considering he's the only original member, he's been so open.
"I've only known him from watching the show and you think he might be a bit scary but he's the absolute opposite, he's so lovely.
"You get hypnotised by his beautiful eyes. I sort of drift off, wake up, and I'm ironing his shirt."