The Stranger Things Kids Are Richer Than We'll Ever Be...
21 March 2018, 11:24 | Updated: 21 March 2018, 15:19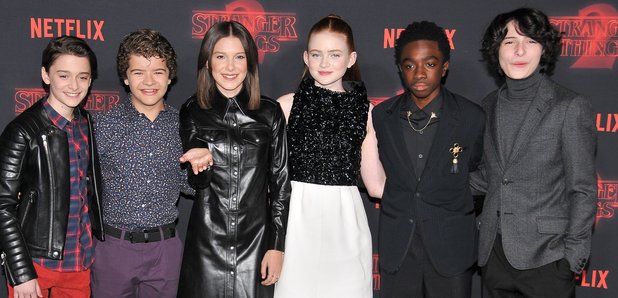 Find how much Finn Wolfhard, Millie Bobbie Brown and the cast of the hit Netflix series are reported to earn each episode.
The cast of Stranger Things are reported to have scored a major pay rise, with its child stars earning up to 12 times more for season three than they did in the previous two instalments.
According to the Hollywood Reporter, the hit Netflix show - which stars the likes of Millie Bobby Brown as Eleven and Finn Wolfhard as Mike - has the actors divided into three tiers, with the adult stars earning the most at up approximately $350,000 (249k) per episode.
Despite Millie Bobby Brown falling into the child stars category, sources suggest that the 14-year-old Brit has separated herself from the young cast in terms of negotiations, and may be earning almost as much as the adult actors.
Find out what the actors are reported to earn here:
A Tier:
Adult stars Winona Ryder (Joyce) and David Harbour (Jim Hopper) - Up to $350,000 per episode
B Tier:
Child stars Finn Wolfhard (Mike), Gaten Matarazzo (Dustin), Caleb McLaughlin (Lucas) and Noah Schnapp (Will) - $250,000 per episode
C Tier:
On-screen teenagers Natalia Dyer (Nancy), Charlie Heaton (Jonathan) and Joe Keery (Steve) - $150,000 per episode.
Whether or not the cast of Stranger Things are being paid the same, it's clear that they all have plenty of fingers in pies.
Last month saw Natalia Dyer star in James Bay's Wild Love video, where she played - you guessed it - his love interest:
Elsewhere the cast have shown just how multi-talented they are, with Finn Wolfhard's band Calpurnia getting signed to a record label.
Watch Calpurnia cover the Pixies classic Where Is My Mind
Gaten Matarazzo also dabbles in music, with his band Work In Progress performing Red Hot Chili Peppers' Can't Stop live.
Watch them in action here:
Find out just how much Millie Bobby Brown wants to hear about the new Arctic Monkeys' album:
Photo credit: Sipa USA/SIPA USA/PA Images