Hollyoaks, Coronation Street, EastEnders and Emmerdale among soaps taking part in first crossover episodes to highlight climate change
12 October 2021, 11:31 | Updated: 12 October 2021, 14:50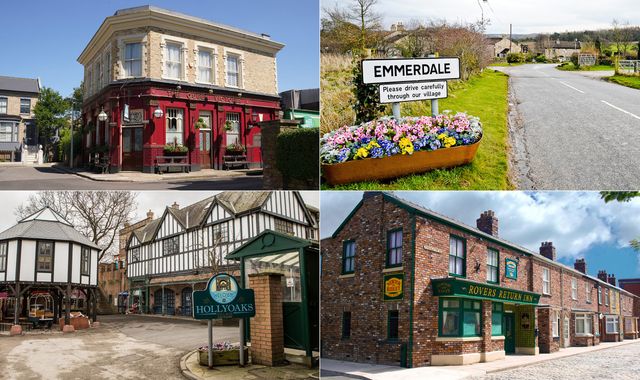 In a TV first, the UK's biggest soaps and continuing dramas are set to feature crossover storylines to highlight the issue of climate change.
Coronation Street, EastEnders, Emmerdale and Hollyoaks are joining forces for the first time, along with Doctors, Casualty, and Holby City, to take part in the landmark media event.
TV bosses say they are excited to bring the drama to millions of viewers to highlight the "issues that are so important" in the same week that world leaders meet to discuss climate change at the COP26 conference.
All seven shows taking part have filmed scenes or will have references to climate change, and fans will see some characters making cameo appearances in rival programmes. There will also be "nods" and references to other shows.
Producers say it has taken many months of meetings and planning to bring the storylines together.
Emmerdale's executive producer Jane Hudson, who came up with the idea, said: "Never before have all five soaps and both continuing dramas come together and united in telling one story. And we certainly haven't seen characters pop up in other shows before.
"This is a real treat for our audience, whilst also allowing us to get across a very important message."
Kate Oates, head of continuing drama for BBC Studios, added: "I'm thrilled that our soaps and serial dramas have all come together to help highlight the issue of climate change amongst our millions of viewers.
"We're grateful to the teams that made this happen, and hugely look forward to seeing the talent from our own shows popping up in other iconic programmes."
Hollyoaks executive producer Lucy Allan said the issue of climate change is important to the show's younger audience.
"It has been great to work together on an engaging way to, hopefully, inspire conversations about issues that are so important," she said.
Further details about the storylines will follow, producers said.
The drama begins on Monday 1 November.
The show investigates how global warming is changing our landscape and highlights solutions to the crisis.
(c) Sky News 2021: Hollyoaks, Coronation Street, EastEnders and Emmerdale among soaps taking part in first crossover episodes to highlight climate change