Nostalgic Tributes Pour In For Grotbags Star Carol Lee Scott
6 July 2017, 10:00 | Updated: 19 September 2017, 18:29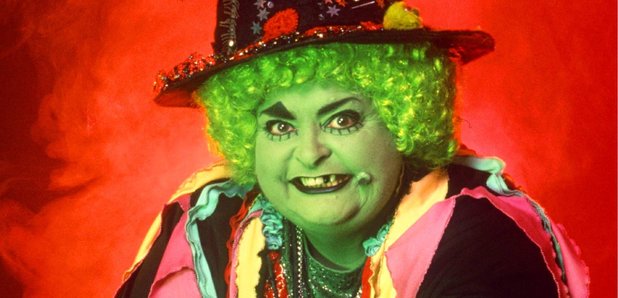 The actress has sadly passed away, aged 74, following a "brave fight against cancer".
Carol Lee Scott has sadly died.
The Grotbags actress - who was best known for playing the green-faced witch in the popular children's show throughout the 80s and early 90s as well as Emu's World - has passed away at the age of 74.
The sad news was confirmed by Carol's niece Gina Mear on Facebook on Wednesday (5 July) when she wrote: "My dear aunty Carol lost her brave fight against cancer yesterday. To many of you she was Grotbags – a legend! To me she was just aunty Carol. I shall miss her hugely, rest in peace Carol."
Gina then followed it up by posting some photographs of her legendary aunt on her Twitter account and accompanied it with the caption: "My dear aunty Carol passed away yesterday, RIP #Grotbags, I will miss you".
My dear aunty Carol passed away yesterday, RIP #Grotbags, I will miss you pic.twitter.com/UORQ2MJjkd

— Gina Mear (@ggeenie) July 5, 2017
The touching message prompted Rufus Hound to send his sincere apologies for her loss and he went on to refer to Carol as an "icon for folk" for his generation.
He wrote: "Very sorry for your loss. An icon for folk of my generation. Thank you for her."
The news has prompted an outpouring of tributes from nostalgic fans, who are thanking the actress for being part of their childhood.
Very sad to hear of the death of #Grotbags Carol Lee Scott, thank you for making part of my childhood a magical and scary place. #RIP pic.twitter.com/00fU15m89j

— Andrew Joshi (@anjoshi7) July 5, 2017
Bless her. #grotbags pic.twitter.com/pxFEt2dhc8

— Steven Kelly (@stev_k) July 6, 2017
Daleks. Zelda. Skeletor. Nothing - NOTHING - terrified me quite like Grotbags. Bravo! #RIPCarolLeeScott pic.twitter.com/kviANuh9W4

— Gary Dewar (@garydewar82) July 5, 2017
Just heard Carol Lee Scott has died. Oh Grotbags may you rest in peace. Thank you for being part of my childhood. pic.twitter.com/IbvJmunPk0

— Mitesh Soni (@MiteshSoni_1) July 5, 2017
Noooooo so sad to hear that Carol Lee Scott aka #Grotbags has died pic.twitter.com/WIAi7iromv

— ComedyTiming (@ComedyTiming) July 5, 2017
Carol was born in Somerset in 1943 and kick started her career by performing in cabaret at various clubs in the north of England before singing in London pubs.
The TV star then landed the job as a Pontins Blue Coat and worked for the holiday park for 19 years before she began working with Rod Hull on a series of children's 1980s TV shows and, ultimately, created the famous series Grotbags over the summer.