Dale Winton Gave Jon Culshaw Tips On Poking Fun At Him
19 April 2018, 11:03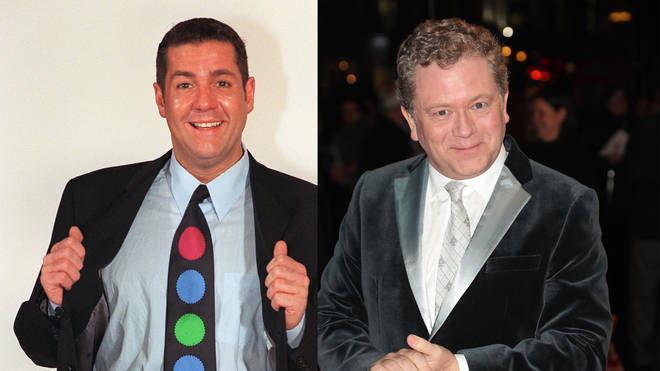 The impressionist has recalled how the late star gave him tips on how to perfect his voice.
Jon Culshaw has praised Dale Winton's "great skill" as a presenter and a performer, and recalled the Supermarket Sweep star giving him tips of how to poke fun at him before the 2001 Royal Variety Performance.
Dale Winton used to give Jon Culshaw tips on how to perfect his voice before the comedian poked fun at the late star.
The legendary TV presenter died on Wednesday (18 April) aged 62, and the comedian has praised the Supermarket Sweep host for being "so full of fun", such as when he did an impression of him at 2001's 'Royal Variety Performance' before Dale turned up on stage.
Jon said: "He had that wonderful generosity, he found such fun in situations like that, and he'd always give you tips on how to do the voice.
"He had a wonderful, rich voice, so full of fun. And he would say, 'You do say 'sweetheart' a lot. But don't forget 'darling'. Then you'll be giving it the full Dale.' "
When Culshaw came into the Chris Moyles Show recently, he demonstrated many of his best impressions, including Dale Winton's…
During the Royal Variety Performance, Jon was doing an impression of the TV star before the National Lottery host appeared on stage, and the comedian joked to Dale: "You sound nothing like him."
Jon has recalled feeling slightly anxious before the skit, which took place in front of Queen Elizabeth, but Dale's "great charm" and "mischief" ensured it was a hit.
He explained: "I was a little bit [nervous]. I knew he was there and I knew he was going to walk out at some point, but I didn't know when.
"I didn't know exactly where and I didn't know what he was going to say. All of this in front of Her Majesty.
"But he just got it, he just got the irony and he relished it."
Jon was shocked to hear of Dale's passing, and has paid tribute to his "great skill" as a presenter and a performer.
Speaking on ITV's Good Morning Britain, he added: "You just think of people like Dale, so happy, as being rather immortal really. It's a great shock.
"He had instant happiness, he would just breeze in and absolutely lift the mood. You just admired his great skill.
"It was that lovely sense of celebration, and he really lifted the mood and you so admired his skill.
"The way he could run a game show, the way he could just breeze through a show, so incandescent with charm and warmth.
"He was a dream to work with, you just felt so happy. You just admired how sharp he was, and how smart. As a performer and a presenter."