Creepy Red Balloons Are Popping Up For The IT Movie...
4 September 2017, 16:39 | Updated: 19 September 2017, 18:43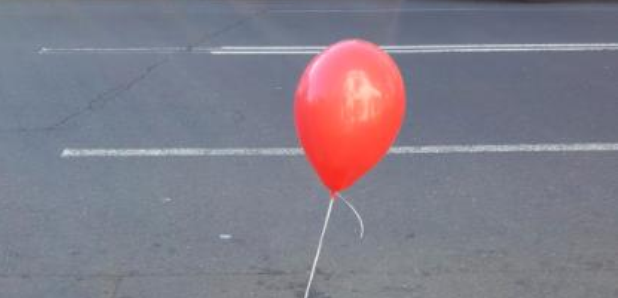 Balloons have been tied to drains around Sydney ahead of the remake of Stephen King's IT being released this week.
Just in case all the trailers for Stephen King's IT weren't unsettling enough, red balloons have been popping up all over drains in Sydney.
Andy Muschietti's reimagining of the clown-based horror is set for release in Australia on 7 September, and passers by are being
See some of the spine-tingling images here:
The Sydney marketing team for #ITMovie have outdone themselves. pic.twitter.com/LXlCgjpU81

— FilmInk (@filmink) September 3, 2017
Awesomely creepy #ITMovie pic.twitter.com/1QXlY2BdYj

— Nick Johnson (@Nick__Johnson) September 3, 2017
Pretty cool marketing initiative for #ITMovie spotted in Sydney CBD this morning.

"We all float down here" pic.twitter.com/vi1KnXSRFj

— David Piepers (@davepiepers) September 3, 2017
Fantastic marketing idea for #ITMovie, and creepy AF lol pic.twitter.com/3VguPc2gEf

— Diana DJ (@DianaDJ7) September 3, 2017
Meanwhile, the new film - which hits UK cinemas on Friday 8 September - has already received rave reviews with Stephen King himself giving the new film his seal of approval.
Speaking in a featurette, the writer said: "I had hopes, but I was not prepared for how good it really was. It's something that's different and at the same time, it's something that audiences are gonna relate to.
"They're gonna like the characters. To me, it's all about character. If you like the character, if you care, the scares generally work. I'm sure my fans will enjoy the movie. I think they're gonna really enjoy the movie. And I think some of them will go back two or three times and actually savour the thing."
Watch the official trailer for IT here:
IT follows a group of young children who are faced with their biggest fears when they square off against the evil clown in Derry, Maine, after multiple children go missing.
The surviving children mature into adulthood and are forced to revisit their horrors as one by one they encounter Pennywise again.
Muschietti previously revealed that Allegiant star Skarsgard, 26, was so frightening in his full makeup that he freaked out his child co-stars on set.
The filmmaker said: "He didn't stay in character when the camera stopped, but we did try to maintain distance between him and the kids.
"We wanted to carry the impact of the encounters to when the cameras were rolling. The first scene where Bill interacted with the children, it was fun to see how the plan worked. The kids were really, really creeped out by Bill. He's pretty intimidating because he's six-four and has all this makeup."
Meanwhile the film has unveiled three new extended clips ahead of it's release on 8 September.
Watch the first, which is entitled This Town Is Cursed below:
See clip 2, entitled Take IT:
Watch the third and final clip, which goes under the name I Don't Want To Go Missing Either: