Could The Inbetweeners Get A "Reboot"?
16 March 2017, 12:14 | Updated: 19 September 2017, 18:29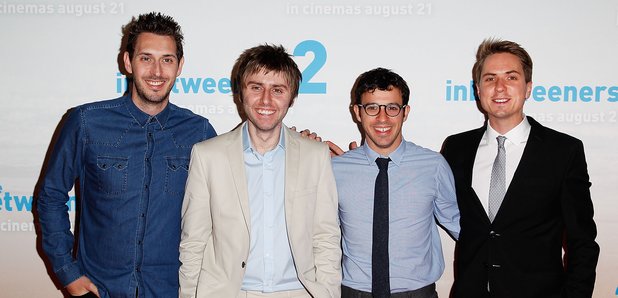 The original cast won't get back together, but show's producer is thinking of a whole new series…
While Simon Bird, Joe Thomas, James Buckley and Blake Harrison are adamant they'll never reprise their roles as Will McKenzie, Simon Cooper, Jay Cartwright and Neil Sutherland (respectively) from the popular Channel 4 comedy, there might be a way to get more awkward LOLs onto our screens.
The show's producer is currently toying with the idea of creating a new series based on a new group of college friends.
Speaking to The Sun, production chief Peter Langenberg explained:
"It's not feasible for the cast to reprise their roles at that stage, but the brand is so strong that I'm interested in seeing if we could take a new spin on it."
The comedy first appearein 2008 and ran for two years and three series - before it returned a year later in the shape of a film, which saw the four 18-year-old boys go on their first lads' holiday to Greece.
The blockbuster proved a huge success in the UK but wasn't so popular in the US.
However, creators Iain Morris and Damon Beesley didn't let that stop them from putting together a storyline for a second film. The sequel saw the foursome travel to Australia and was released in the UK and Ireland in August 2014.
Although the original cast have scoffed at rumours that they will return for another film, James Buckley caused a flurry of interest a couple of years back, when he suggested that the quartet could reunite later down the line for a funeral.
He said at the time: "We have to see what happens. Maybe one of them dies and the other three have to join up for the funeral."