WATCH: "Baby Invasion" Family Speak Out On Race Debate
15 March 2017, 16:51 | Updated: 19 September 2017, 18:29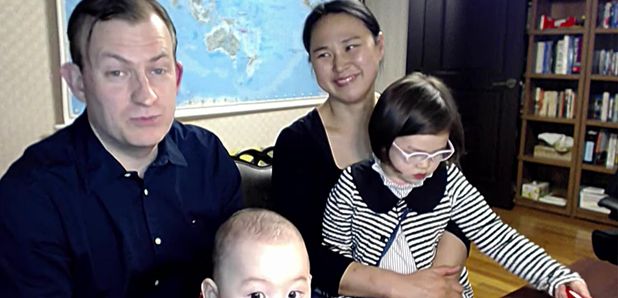 The viral video caused controversy after it led some viewers to assume his wife was the nanny.
Professor Robert E Kelly, who was interrupted by his children during a BBC News interview about South Korea, has returned with his family to talk about the moment on TV.
Interviewed by BBC Worldwide about all the attention they received, Kelly said: "We never expected any kind of attention like this at all. We've certainly not had anything in our lives like this before."
He added: "We were worried actually that the BBC would never call us again. That was our first thought. We were just worried that we'd completely blown our relationship with you."
Watch their full interview, courtesy of BBC News, here:
The professor also explained: "It was foolishly all my fault for not locking the door."
Asked if they were stung after his wife, Jung-a Kim was mistaken by some for his nanny, Kelly revealed: "We were pretty uncomfortable with it."
Wife Kim added: "I hope people just enjoy it, not argue over this. Because I'm not the nanny, that's not true, so I hope they stop..."
And finally answering the most important question, whether or not he was wearing trousers on below his waist, Kelly promised: "Yes I was wearing pants and no It was not staged."
Watch the famous interview which kicked it all off here:
Credit: YouTube/BBC News