WATCH: Bake Off Fans Slam Noel Fielding Gag As Irresponsible
13 September 2017, 14:29 | Updated: 19 September 2017, 18:44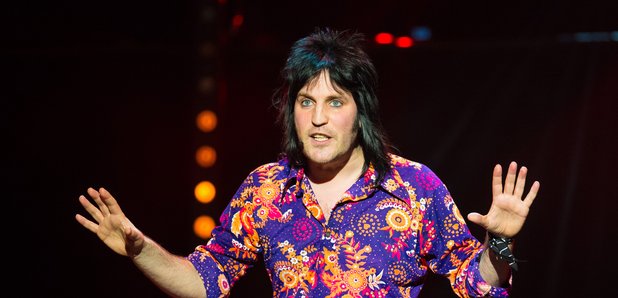 Some have criticised the show for setting a bad example for children, after the comedian was seen hiding in a fridge.
Despite Great British Bake Off's move to Channel 4, it's been widely well-received by audiences old and new.
But some fans weren't happy with a skit which involved new presenters Sandi Toksvig and Noel Fielding, seeing the Mighty Boosh star coming out of a fridge.
See it here:
Just when you thought @NoelFielding11 couldn't get any cooler...#GBBO #BreadWeek pic.twitter.com/XLTzXo4W2r

— Channel 4 (@Channel4) September 12, 2017
Despite the moment clearly being scripted for comedic value, some didn't take kindly to the gag online, slamming Channel 4 for setting a bad example to children.
#GBBO Great British Bake Off - Noel Fielding hiding and being shut in a fridge by Sandi Toksvig. Great message to all the kids watching.

— Wayne Martin (@waynem207) September 12, 2017
#Channel 4. Bake off. What a good example for children. Noel Fielding climbing inside a fridge and closing door.

— Bill Cunningham (@NaeNumpty) September 12, 2017
Really disappointed that bake off just showed a presenter being shut in a fridge! Not a great child safety tip!!

— Lorraine Howie (@Loz232) September 12, 2017
The Great British Bake Off 2017 A show watched by 1000s of children & talentless @noelfielding11 hid in a fridge #irresponsible #GBBO2017

— Nikky Mills (@Saffyre) September 12, 2017
It's not all been bad, however, with a lot of love being shown for the star over the weeks.
Noel Fielding's vibes are so calming and reassuring I feel like he'd be a good person to talk about life with at 4am on a rooftop u kno

— zannah (@notjustblondee) September 5, 2017
I love how Noel Fielding is getting more and more 'Boosh' each week. He's working up to Old Gregg for the finale. I know it. #GBBO2017 pic.twitter.com/Yjx4M9gDzd

— GlutenFreeGuineaPig (@MoogleMosh) September 12, 2017
I actually really like Noel Fielding as a bake off presenter pic.twitter.com/FYrRAUddlk

— Livv Humphries (@_livhumphries_) September 12, 2017
I love Noel fielding being in bake off pic.twitter.com/0CSjRzmHW3

— HB (@letsgetlosttt) September 12, 2017
Lead photo credit: Credit: Dominic Lipinski/PA Archive/PA Images
See the best reactions to the Bake Off premiere: