Alan Partridge's best quotes and words of wisdom
30 April 2021, 20:58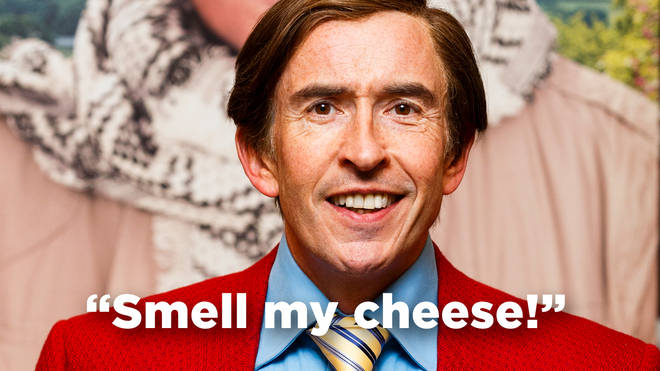 Steve Coogan's hapless TV presenter is returning to the screens, so let's look back at his most hilarious one-liners.
Steve Coogan returns to BBC One at 9.30pm on Friday 30 April for another series of This Time With Alan Partridge. That's right, he got a second series.
The character first appeared in the radio news spoof On The Hour thirty years ago as the presenter of Sports Desk, and since then he's battled through adversity, bounced back and now hosts a prime time news magazine show.
To celebrate. get our rundown of some of the best quotes from Alan Partridge... and remember... his views are not Steve Coogan's... and most certainly are NOT our own!
VIDEO: Steve Coogan picks his favourite Manchester song
"Smell my cheese!"

- A business lunch with the BBC's programming commissioner Tony Hayers doesn't go well.

"My face was designed as a leisure accessory."

- When talking about his appearance

Coogan as Partridge at a book signing in Manchester, 2011. Picture: Shirlaine Forrest/WireImage/Getty Images

"Tough one! I think I'd have to say… 'The Best Of The Beatles'."

- When asked which Beatles album is his favourite.

"I find it amazing how many people still think the petrol cap on a Ford Focus is offside rear."

- His thoughts on the humble Ford Focus

Alan does his bit for Comic Relief in 1999.

Picture: Comic Relief/Getty Images

"Hi Susan. I was a bit bored so I dismantled my Corby Trouser Press. I can't put it back together again. Will that show up on my bill?"

- On boredom in the Linton Travel Tavern.

teve Coogan seen filming scenes for the first series of This Time With Alan Partridge, February 2018. Picture: GettyNeil Mockford/GC Images

"I'm 47; my girlfriend's 33. she's 14 years younger than me. Back of the net!"

- His thoughts on his relationship age-gap with his girlfriend Sonja

Alan raises money for Sports Relief in 2016. Picture: Jane Stockdale/Comic Relief/Getty images

"That was 'Big Yellow Taxi' by Joni Mitchell, a song in which Joni complains they 'Paved paradise to put up a parking lot', a measure which actually would have alleviated traffic congestion on the outskirts of paradise, something which Joni singularly fails to point out, perhaps because it doesn't quite fit in with her blinkered view of the world. Nevertheless, nice song."

- His interesting take on one of Joni Mitchell's most iconic songs

"Lynn, get rid of her. She's a drunk racist. I'll tolerate one, but not both."

- Explaining what he couldn't possibly tolerate in one person

"Let me tell you something about the Titanic: people forget that on the Titanic's maiden voyage there were over 1000 miles of uneventful, very pleasurable cruising before it hit the iceberg."

- Giving his somewhat optimistic interpretation of the Titanic disaster

"'Sunday Bloody Sunday'. What a great song. It really encapsulates the frustration of a Sunday, doesn't it?"

- His cringeworthy understanding of the the famous U2 song about the Troubles in Northern Ireland.

"There's never any graffiti in the hotel. Although in the gents a couple of weeks a go I did see someone had drawn a lady's part. Quite detailed. The guy obviously had talent."

- His thoughts on "street art".

"Jet from Gladiators to host a millennium barn dance at Yeovil aerodrome. Properly policed. It must not, I repeat not, turn into an all-night rave."

- More TV ideas from Partridge.

Alan in a Christmassy mood.

Picture: Jeff Spicer/Getty Images

"I'd just like to fly a helicopter all around Norfolk. You know, swoop down over a field. Scare a donkey so that it falls into a river. Hover over one of those annoying families that go on holidays on bikes. And shout at them "get out of the area!" and watch them panic!"

- On his deepest desires.

Alan Partridge travels by helicopter from Norwich to London in July 2013. Picture: GettyTim P. Whitby/Getty Images for Studiocanal

"Go to London, I guarantee you'll either be mugged or not appreciated. Catch the train to London, stopping at Rejection, Disappointment, Backstabbing Central and Shattered Dreams Parkway."

On London.

"That was... liquid football!"

Classic World Cup commentary from Partridge (warning: strong language)
WATCH: Steve Coogan's impression of Liam Neeson is spot on