Thousands Gather In Manchester For Vigil
23 May 2017, 19:42 | Updated: 24 May 2017, 13:32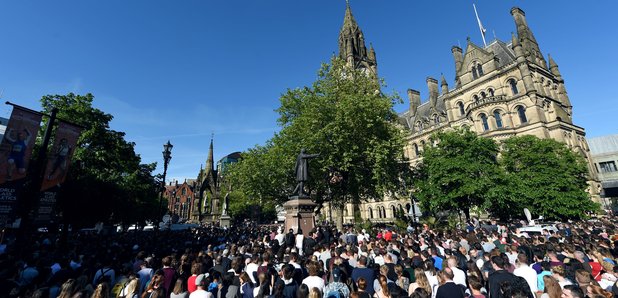 The city's Albert Square hosted the gathering, which remembered the victims of the Manchester Arena terrorist attack.
Thousands of people attended a vigil to remember the victims of the Manchester Arena bombing.
The vigil was held by the City's Town Hall in Albert Square, not far from where the terrorist attack took place on Monday night (22 May).
The event started with a minute's silence, then the Lord Mayor of Manchester, Eddy Newman, paid tribute to the emergency services.
He went on: "We will defy the terrorists by working together to create cohesive, diverse communities that are stronger together.
"We are the many, they are the few."
The vigil was also attended by Manchester Mayor Andy Burnham, Home Secretary Amber Rudd and Labour leader Jeremy Corbyn.
Poet Tony Walsh delivered an emotional poem paying tribute to the city that he wrote in 2015 for the charity Forever Manchester. It concluded:
"This is the place in our hearts, in our homes, because this is the place that's a part of our bones.
"Because Greater Manchester gives us such strength from the fact that this is the place, we should give something back.
"Always remember, never forget, forever Manchester."
Greater Manchester Chief Constable Ian Hopkins said: "The people of Greater Manchester showed the people of the world how much we care, how much we care about one another, and how much we care for those in need."
The Manchester Sikh Community provided food and drink for the vigil and similar events have been held around the country.
22 people were killed and 59 injured in the attack, which took place on Monday night following a gig by US pop star Ariana Grande.
Earlier, police named 22-year-old British-born Salman Abedi as the man who carried out the bombing.