This "Barred" List From A London Pub Is The Most Entertaining Read Of The Day
12 April 2016, 18:34 | Updated: 25 April 2016, 13:24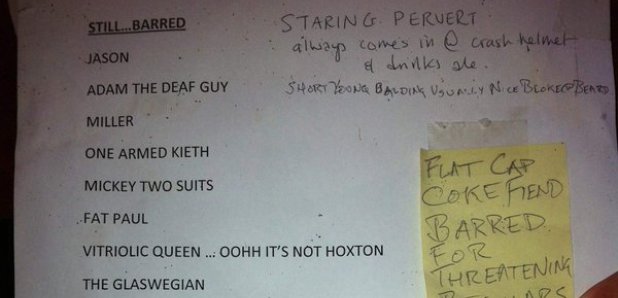 Twitter has uncovered a colourful list of ne'er do wells who have been blocked from entering a local hostelry… and it poses so many questions.
Shared - bizarrely - by the singer-songwriter Rumer on Twitter, the list was purportedly posted behind the bar at the Half Moon in Herne Hill, detailing the rogues gallery of "difficult" customers.
@savehalfmoonpub @lb_southwark @FullersBrewery here is the old barred list! hopefully they'll manage!;) pic.twitter.com/NyEiTpaEYY

— RUMER (@Rumersongs) April 10, 2016
Headed "STILL… BARRED", the list includes such colourful characters as:
ADAM THE DEAF GUY
ONE ARMED KIETH
(sic, who Rumer claims "ran onto a railway track evading justice")

MICKEY TWO SUITS
FAT PAUL
VITRIOLIC QUEEN…
(with the addition of "OOHH IT'S NOT HOXTON" either as an extra descriptor, or as some kind of editorial comment?)

THE GLASWEGIAN
THE GINGER DRUNK TWAT CALLED ANGUS
JULIA TANT… AKA MILLE TANT FROM VIZ… DEAD RINGER
THE EX CON CHAV TWAT
THAT BLONDE BITCH
GUS AND HIS MATE MARK
CRAZY LINDA
And the beautifully poetic
TALL CHAVVY FIGHTING IDIOT OF OLD
Handwritten on the piece of grubby paper is the classic description: "STARING PERVERT" with the note "always comes in w/ crash helmet an & drinks ale… SHORT YOUNG BALDING USUALLY NICE BLOKE BEARD".
Whether or not the "Usually nice" applies to STARING PERVERT is something we've hotly debated in the Radio X office.
A post-it note stuck to the piece of paper adds the punchline: "FLAT CAP COKE FIEND BARRED FOR THREATENING REGULARS (AND EVERYTHING ELSE)" with the addition of "YUP - matter of time!"
Known for hosting live music (including an early London show for U2 back in 1980), The Half Moon came a cropper in 2013, when a burst water pipe in Herne Hill flooded many of the buildings in the area, including the pub.
Thankfully, the Grade II listed building is set to re-open this summer.
Radio X is pleased that London's pubs hold such high standards of customer service in protecting their valued customers from people like this.
Of course, we've all had a bellyful of a "FAT PAUL" in our time, haven't we?