Purple Reign: The World Turns Purple As Iconic Landmarks Light Up For Prince
22 April 2016, 11:40 | Updated: 22 April 2016, 15:26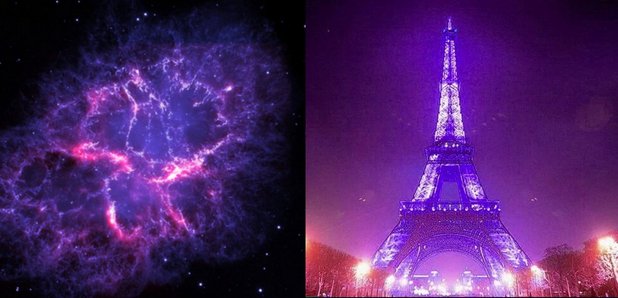 Snapchat also enabled a Prince filter for fans to celebrate the late icon.
The world is continuing to mourn the passing of the iconic star, Prince Rogers Nelson, who died aged 57, yesterday (Thursday 21 April).
In addition to tributes from pouring in from stars all over the world, famous venues and landmarks paid tribute to the singer yesterday by turning purple.
Minneapolis' famous stadium and Target Field - the home of the Minnesota Twins - went purple inside and out upon hearing the sad news.
Fitting that it's raining in Minneapolis today. pic.twitter.com/s5KFurDhHi

— Minnesota Twins (@Twins) April 21, 2016
The Eiffel Tower in Paris, France also looked resplendent in purple.
by @mnstandup #EiffelTower #France The Love is real today! #effeltower #paris #Prince #RIPPrince #PurpleRain #princ… pic.twitter.com/rr8xiJYL5C

— Selfie Robot (@SelfieRobot) April 22, 2016
As did the Empire state building...
The Empire State Building is purple for Prince. #RIPPrince pic.twitter.com/5gwef77ByJ

— Typical Girl (@relatabIeIife) April 22, 2016
The Mercedes-Benz Superdome was lit up respectfully in New Orleans.
Purple puddles of rain surround the Mercedes-Benz Superdome in New Orleans lit up in purpl… https://t.co/S9zEEjPzlS pic.twitter.com/SI3IbnpmXF

— Chris Granger (@chris_granger) April 22, 2016
The Los Angeles City Hall lights reflected the purple one.
LA City Hall lights up purple in memory of Prince. #RIPPrince pic.twitter.com/GA7gRSVJdQ

— Nidia Becerra (@nidia_b) April 22, 2016
Warner Bros released an official statement and paid tribute at their offices.
To honor Prince, Warner Bros. Records @wbr has turned their building into a giant memorial. #RIPPrince pic.twitter.com/v61kPEeTGv

— Steve Kuzj (@SteveKuzj) April 22, 2016
Warner Bros. Records CEO on Prince: "Today, we lost one of the most revolutionary talents of our time." pic.twitter.com/kKQzcSOHF5

— ABC News (@ABC) April 21, 2016
And if that wasn't out of this world enough, NASA released an image of a purple-hued nebula to mark Prince's passing.
A purple nebula, in honor of Prince, who passed away today. https://t.co/7buFWWExMw pic.twitter.com/ONQDwSQwVa

— NASA (@NASA) April 21, 2016
Meanwhile, venues in Britain paid tribute by remembering the icon's lyrics.
Brixton's Ritzy cinema - which famously paid tribute to their "Brixton Boy," Bowie in January - wrote the famous Prince lyric: "This is what it sounds like, when doves cry".
Outside the Ritzy in Brixton. Rip #Prince. pic.twitter.com/xSXBYKJhwv

— Radio X (@RadioX) April 21, 2016
Snapchat has enabled a special feature on their app, with fans able to use a Purple Rain filter.
Snapchat is honoring Prince with a "Purple Rain" filter today https://t.co/s0H2F9c9AJ pic.twitter.com/ad8YeGmz4F

— Los Angeles Times (@latimes) April 21, 2016
In memory of Prince, Snapchat have added a Purple Rain filter on to the app. #RIPPrince pic.twitter.com/xMgjLi0KFz

— Shady Music Facts (@musicnews_shade) April 21, 2016
Pictures: Twitter/Instagram