The Strokes Recording New Music In The Studio
15 December 2015, 11:12 | Updated: 15 December 2015, 12:06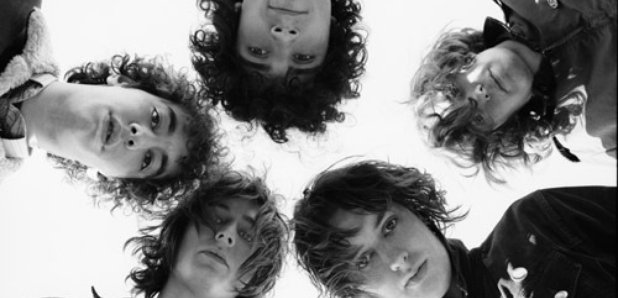 Songwriter and label CEO, Victoria Morales-Kühne, posted a studio pic with the band.
The Strokes are back in the studio making music together.
The band - who played a gig at Mexico's Live Out Monterrey Festival - dropped by Monterry's Victoria Records, where they took a picture with label CEO, Victoria Morales-Kühne.
The songwriter and label boss posted a snap with the New York band, alongside the caption: "When one of your favourite bands in the world contacts you months in advance to rent your studio B to record drums and studio A to rehearse and you're just grateful. WHAT IS LIFE RIGHT NOW?!!"
If Julian Casablancas and his crew are indeed working on their sixth album, it will be their first release since 2013's Comedown Machine.
Missing from the picture is Albert Hammond, Jr. who was probably running a little late, after dealing with a pickpocket in Sweden.
The guitarist and keyboardist pounced on a thief in Stockholm, after he attempted to steal his wife's wallet and green card.
Watch the surveilance footage below:
The rocker - who also released his album Momentary Masters this year - shared the news on Twitter with his followers, joking: "let's just say we got everything back".
Looks like he definitely doesn't need New York City Cops!
The singer also posted a video of the band performing together last night, adding that he "can't wait" to bring the fans "more music and more shows"
dave_o15's video https://t.co/0nreXuJdaf That's what I'm talking about/can't wait to bring you guys more music and more shows

— Albert Hammond Jr (@alberthammondjr) December 14, 2015