UPDATE: Nick Valensi's Guitar Has Been Found
22 February 2016, 17:06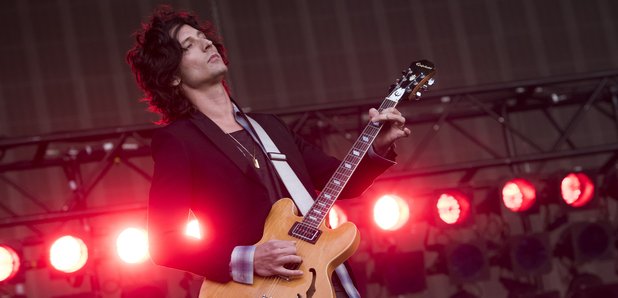 The Strokes guitarist has been reunited with his Epiphone, but it's not in the state he left it.
Nick Valensi has been reunited with his lost guitar.
The Strokes guitarist lost his beloved Epiphone at the beginning of the year when it was being shipped from New York to L.A, leading the band to offer a reward of $5,000 for its safe return.
The strummer's wife Amanda de Cadenet has confirmed the guitar has since been found, posting a picture of Valensi hugging his instrument on her Instagram.
It isn't all good news though, since she's revealed the guitar is "severely water damaged" and missing its strings.
Published on 22 January 2016:
The Strokes' year hadn't got off to a great start, after the band revealed in a post on 4 January, that Nick Valensi's guitar has gone missing.
Now, after failing to track the instrument down, the band have updated their post yesterday (21 January), offering a $5000 reward to whoever finds its whereabouts.
Unfortunately, we still haven't found Nick's missing guitar..we've updated the amount on the reward we are offering: https://t.co/ZmuQYQ1roh

— The Strokes (@thestrokes) January 21, 2016
The band also took time to wish Nick a Happy Birthday on their website, after he turned 35 on Saturday 16 January.
The New York band first took to Twitter and their official website to share the "unfortunate news" and stress how "bummed" their guitarist is without his strings.
Attention friends, Nick's beloved Epiphone guitar has gone missing. Here's how you can help: https://t.co/HA02gdeTLW pic.twitter.com/F7kgKN29h2

— The Strokes (@thestrokes) January 5, 2016
Their statement reads: "Hello Friends, In a bit of unfortunate news, we've recently learned that Nick's beloved Epiphone guitar has gone missing while being shipped from NYC to LA. A description of the guitar and its case is below and we ask that you join us in keeping an eye out for it. It goes without saying how bummed he is that it's gone missing."
The band went on to give a description of the Epiphone guitar, descrbing it as having a natural colour with a "orange-ish hue" and mentioning its distinguishing features such as a removed "pic guard" and "mother-of-pearl inlays".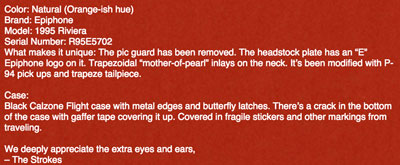 They added: "If you have any info at all about the guitar – perhaps see it in a pawn shop or on eBay – please send an email to info@wizkidmanagement.com."