Remember When The Simpsons Predicted Donald Trump Would Be President?
9 November 2016, 10:02 | Updated: 9 November 2016, 11:08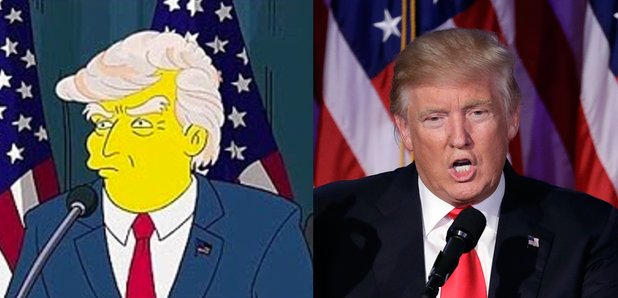 Show writer Dan Greaney said the episode "was a warning to America."
As the world reacts to Donald Trump's victory becoming the President of the United States, we're taking a look back at 2000 when The Simpson's didn't just give us an eerie glance into America's possible future, but got it DEAD on.
In their 16-year-old Bart To The Future episode, Bart becomes a bum, and his sister Lisa becomes the "first straight female President of The United States." Sounding familiar?
But instead of Obama, it's President Trump who's she's set to succeed and inherit the "budget crunch from".
Watch the a clip of the episode from 2:15 below:
Spooky.
Only one thing that's yet to be fulfilled is the state Trump leaves America in... but they've got at least another four years to fulfil that one.
Series writer Dave Dan Greaney said the episode "was a warning to America" which showed what would happen if the country went "insane".
Talking to The Hollywood Reporter he revealed: "[It] just seemed like the logical last stop before hitting bottom. It was pitched because it was consistent with the vision of America going insane."
He added: "What we needed was for Lisa to have problems that were beyond her fixing, that everything went as bad as it possibly could, and that's why we had Trump be president before her."
The Simpsons creator Matt Groening also told The Guardian: 'We predicted that he would be president back in 2000 – but [Trump] was of course the most absurd placeholder joke name that we could think of at the time, and that's still true. It's beyond satire.'
Wow.
I guess we better start swatting up on new episodes of The Simpsons if we want to know what happens in the next 16 years...