Albert Hammond Jr. Claims Ryan Adams Gave Him Heroin
16 May 2017, 15:21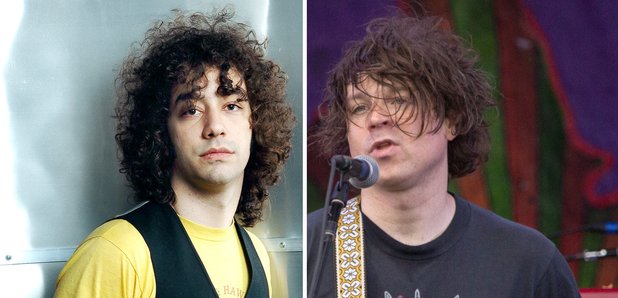 The Strokes rocker has detailed his struggle with addiction and his friendship with the singer-songwriter.
The Strokes' Albert Hammond Jr. has claimed that Ryan Adams supplied him with heroin.
In a lengthy excerpt from Lizzie Goodman's forthcoming Meet Me in the Bathroom book, the Last Nite rhythm guitarist has talked about his struggle with drug addiction, and revealed frontman Julian Casablancas threatened to beat up Ryan Adams for being a "bad influence" when it came to the drug.
Speaking about the time around The Strokes' 2003 Room On Fire album, Hammond Jr. recalls: "I remember Julian threatening to beat Ryan [Adams] up if he hung out with me, as a protective thing," said Albert Hammond Jr. "He'd heard that Ryan would come and give me heroin, so he was just like, 'if you come to my apartment again with heroin, I'm going to kick your ass'."
Despite not laying the blame squarely with Adams and admitting to wanting to try the drug since he was 14, Hammond added: "I hadn't really been doing it in baggie form until Ryan showed up. He was definitely a bad influence."
Talking about the incident, frontman Julian Casablancas mused: "Did I specifically tell Ryan to stay away from Albert? I can't remember the details, to be honest. I think heroin just kind of crosses a line. It can take a person's soul away. So it's like if someone is trying to give your friend a lobotomy — you're gonna step in."
However, according to NME,the Come Pick Me Up singer has previously denied the claims, saying: "That's so sad, because Albert and I were friends. If anything, I really felt like I had an eye on him in a way that they never did. I was around and we actually spent time together. He would show me his songs. It was like, "No one ever listens to my music, but do you want to hear it?" I would be like, 'fuck yeah!' I loved him so deeply. I would never ever have given him a bag of heroin. I remember being incredibly worried about him, even after I continued to do speedballs."
"I didn't do drugs socially, and I don't remember doing drugs with Albert ever. I wanted to smoke cigarettes and drink, like, dark red wine or vodka and write all night."
Meet Me in the Bathroom: Rebirth and Rock and Roll in New York City, 2001–2011 - which details the rise of 2000s NYC bands such as The Yeah Yeah Yeahs, LCD Soundsystem, Interpol and Vampire Weekend - is set for release on 23 May 2017 and available to pre-order here.