Steve Mason and Of Montreal confirmed for Camden Crawl 2014
18 March 2014, 11:27 | Updated: 18 March 2014, 11:37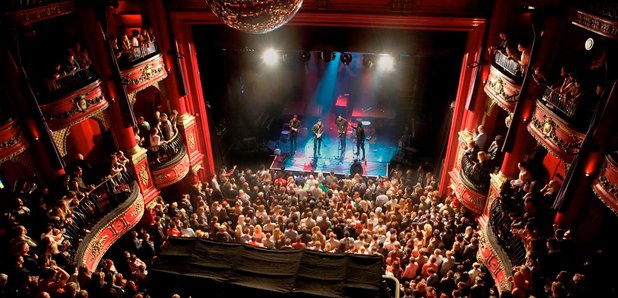 Camden Crawl has announced it is returning in 2014 after an extended break.
The event will return to north London on Friday 20 and Saturday 21 June, taking over 25 stages in venues around the Camden area.

ABC, Atari Teenage Riot, The Field Mouse, Mouse on Mars, Of Montreal, Steve Mason and Yuck are among the first acts to be revealed for the multi-venue event.

Tickets are on sale now.
Camden Crawl 2014 - Acts Confirmed So Far:

ABC | ATARI TEENAGE RIOT | THE FIELD | MOUSE ON MARS | OF MONTREAL | STEVE MASON | YUCK

ADRIAN CROWLEY - ALEXIS TAYLOR [Hot Chip] - AU REVOIR SIMONE - BLIZZARD - CYMBALS - DIRTY BEACHES - GHETTS - GIRLS NAMES - HALLS - JEFFREY LEWIS & THE JRAMS - KLOSE ONE - KREPT & KONAN - KUEDO - THE KVB - MAUSI - MAZES - THE OSCILLATION - PALE SEAS - PLASTICIAN - SHABAZZ PALACES - TALL SHIPS - DJ TARGET - VISIONIST

AKIINE - ANNEKA - AUTOBAHN - BAD WOLF - DJ BIG TED - BIRD TO BEAST - BRAWLERS - BROLIN - BRONTIDE - CATTLE & CAIN - CLAW MARKS - COCOS LOVERS - CRUSHED BEAKS - CUT -DIGNAN PORCH - THE DRINK - EARLY GHOST - ED DOWIE - EIGHTEEN NIGHTMARES AT THE LUX - DJ EMILY RAWSON - THE FAUNS - FELT TIP - FEMME - FIS - GAPS - GNARWOLVES - GOD DAMN - THE GRUMBLING FUR - HAIKU SALUT - HENRY BLACKER - HOT FEET - JACK CHESHIRE - JAMIE DOE - JAY PRINCE - JOEL BAKER - KATIE KIM - KINNIE THE EXPLORER - LONGFELLOW - MAX MARSHALL - MICHAEL A GRAMMAR - MICKEY LIGHTFOOT - MIRACULOUS MULE - MOON ATE THE DARK - MOON GANGS - MOURNING BIRDS - NAI HARVEST - NICK BREWER - NOVELLA - PALE SEAS - PROSE -RACHAEL DADD - RHIANNON THE NIGHTMARE - SHOPPING - DJ SHORTEEBLITZ - SLAVES - SOCCER 96 - SOCIETY - SPIT SHAKE SISTER - THEO VERNEY - THOUGHT FORMS - TOUT - WHISTLEJACKET - WHOANOWS - WILL VARLEY