Star Wars Fans Made A BB-8 Snowman And Chewie Approved
28 January 2016, 16:11 | Updated: 25 April 2016, 15:16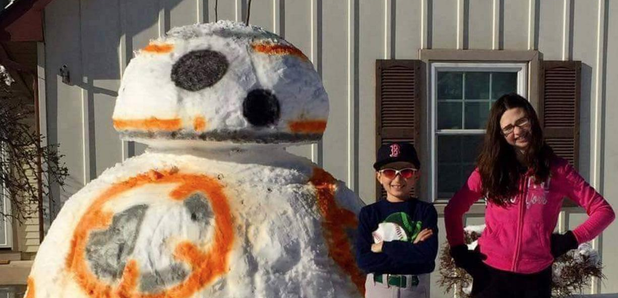 Actor Peter Mayhew loved their snowy depiction.
Two Star Wars fans have made an epic BB-8 snowman and Chewbacca has given it the thumbs up.
These Massachusetts kids made the most of the blizzard with their huge model of The Force Awakens droid, and Reddit user absolutecorey uploaded a photo of them posing proudly in front of it.
But eagle-eyed Redditors noticed Peter Mayhew - the actor who plays Chewbacca - commented on the picture and gave it his stamp of approval.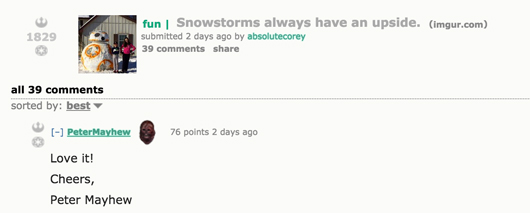 We all know it's not wise to upset a Wookiee, so we imagine Star Wars fans everywhere are breathing a sigh of relief.
Meanwhile, these guys aren't the only ones who've expressed their BB-8 love through the medium of snow.
These guys built a BB-8 snowman in Nashville! #StarWars #StormJonas (Via @jscates ) pic.twitter.com/giBEiF8Npi

— SPIN 1038 (@spin1038) January 26, 2016
OK, so it's not as big, but it is to scale!
See some more Star Wars-themed snowmen below:
Build a droid this winter! #R2D2 #StarWars #winter #snowman pic.twitter.com/QXjsGv40dC

— Ashley Eckstein (@HerUniverse) January 26, 2016
@crave @bonniegrrl How about a Jabba the Hutt snowman to pose with? #blizzard2016 #StarWars pic.twitter.com/Lp1YG3M72R

— Erin (@AtTheLamppost) January 26, 2016
#snowman #juniordoctorstrike #istandwithjohann #starwars pic.twitter.com/xOPdBTArDW

— Kenneth Ma (@drkennethma) January 17, 2016
Star Wars vs Snow Man. See https://t.co/JTBj9RbdSN #BacktoNature #playoutside #GetOutside #playoutdoors pic.twitter.com/7BhLTtNt4v

— outdoorswithdad (@outdoorswithdad) January 24, 2016