Can You Spot The Problem With This St Patrick's Day Advert?
15 March 2016, 09:00 | Updated: 25 April 2016, 15:00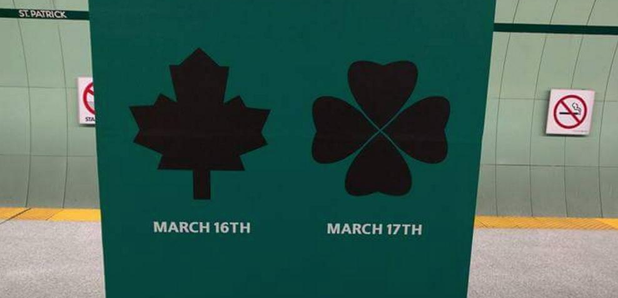 People weren't happy when this Guinness St. Patrick's Day ad popped up in Canada.
St. Patrick's Day is nearly upon us, which means come Thursday 17 March, there'll be lots of partying, dressing up and plenty of Guinness drinking.
Guinness Canada began advertising the big day, when some eagle-eyed punters quickly realised all was not not well.
Under "preferred foliage," the advert sees a Canadian maple leaf on the left side of the poster and a four-leaf clover on the right... which would be all well and good if Ireland's national leaf wasn't a THREE-leafed shamrock.
The mistake didn't go down too well with these guys either:
Guinness Canada! Whoops!!! #ohdearme #guinness #Toronto #designfails pic.twitter.com/sXdNYFmsUe

— David Langley (@NerdHouseDesign) March 12, 2016
I thought if anyone would be able to get a shamrock right it would be @guinnesscanada. I guess not pic.twitter.com/7B0CeF4bqi

— Judith Gannon (@tenhours0) March 9, 2016
@GuinnessCanada Should be a shamrock not a clover. #KnowTheOneThatsOneTooMany #DrinkResponsibly #HappyPaddysDay pic.twitter.com/i7XbDQ2fbl

— Mark Gray (@GrayzaMGG) March 9, 2016
The adverts seem to have since been removed, according to Twitter user Aidan Ryan, who posted the original picture of the poster on a train platform
We guess they didn't have the luck of the Irish, after all?
When Toronto-based Irishman told them about their mistake, they responded saying: "In the excitement of getting ready for next week, we obviously made a mistake and thank you for bringing it to our attention.
"As Canadians, we will say 'Sorry!' and let you know we are removing the posters immediately. We wish you the very best for a happy and safe St. Patrick's Day."
See his post and their response below:
@GrayzaMGG @jesseferreras pic.twitter.com/JUUfnz8jy7

— Aidan Ryan (@AidanRyan555) March 11, 2016
This is the last thing they retweeted though, which still happens to be of a girl wearing a something between a shamrock and a clover...
BLOG POST: St. Patrick's Day 2014: Irish fairies, Ickle jigs and dinner with @GuinnessCanada: http://t.co/O2aSKv7WfB pic.twitter.com/IURaUv19Zq

— Lauren O'Neil (@laurenonizzle) March 18, 2014
Oops!
Picture: Aidan Ryan/ Twitter/@AidanRyan555