LISTEN: Smash Mouth Have Gone All EDM, And 90s Kids Want Their Childhood Back...
28 July 2016, 12:20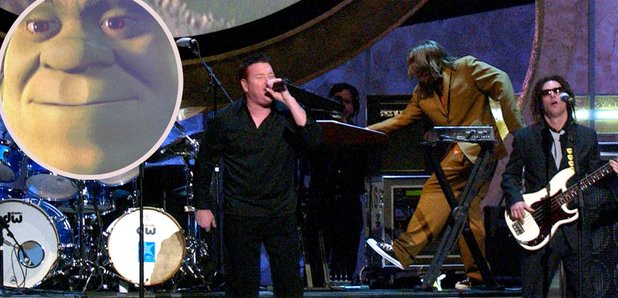 The new track from the pop rock band is a bit of a departure from their 1999 All Star hit.
Smash Mouth have released a new EDM track, Love Is A Soldier, and it's got people in a bit of a spin.
SPECTER + SMASH MOUTH #LoveISaSoldier @Substream https://t.co/S3v9rfzmJ4 pic.twitter.com/nS63xN77JQ

— Smash Mouth (@smashmouth) July 27, 2016
The Californian pop-rockers are best known for being our soundtrack to the nineties and noughties, with both their All Star single and their cover of The Monkees' I'm A Believer featuring heavily in the Shrek series.
However, the latest release from the Walking On The Sun outfit has had them sounding very different.
Watch the lyric video to Love Is A Soldier below:
The song, which appears to be the result of a collaboration with Specter, has produced a mixed response from fans, with others just hoping it means a Shrek 5 is on its way.
See their responses below:
@smashmouth @Substream why isnt this the shrek song

— Grant Martin (@grant_martin45) July 28, 2016
Smash Mouth has a new song and everyone is playing Pokemon. IS IT 1999 AGAIN DID I TIME TRAVEL?

— kat o'keeffe (@kat_tastic) July 28, 2016
dude I just discovered the BEST band!!! have you guys ever heard of Smash Mouth???

— literal trash (@Dr_SofaKingSXE) July 28, 2016
Smashmouth releasing new music is like like that one sports fan who keeps talkin about the championship 12 years ago pic.twitter.com/TBrdlLqY2B

— 1994 Subaru Outback (@Sadieisonfire) July 28, 2016
.@smashmouth How are you? Really. Please be honest.

— Drew Monson (@mytoecold) July 28, 2016
Take a trip down memory lane with the video to All Star - which also featured in the soundtrack to Mystery Men - below: