"Bye Bye Bitch": Slipknot's Corey Taylor Ejects Fan From Toronto Gig
26 July 2016, 10:30 | Updated: 26 July 2016, 11:01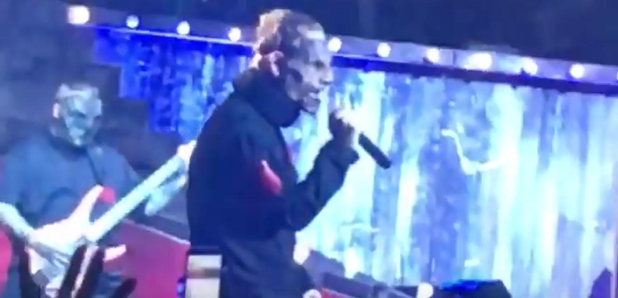 Watch the footage, which sees the Wait And Bleed frontman put his foot down with yet another fan.
A video has emerged of Corey Taylor ejecting a fan out of a Slipknot gig in Toronto last week.
The Slipknot frontman - who's currently touring with his band and Marilyn Manson across North America - told a fan to leave their gig, before getting him ejected by security guards.
Watch the video, uploaded by Hella Von Deäth, below:
While it's not clear exactly what led to the outburst, according to one fan, Frozenoob, who claims to have been standing next to the guy, he was mimicking and mocking the singer to impress his girlfriend.
He said: "I was right beside the guy and his girlfriend. He took her to the show because she never been to a metal concert. He was making his girlfriend laugh and just mocking Corey.. He was nice enough to squeeze over and let me and my girl to the front row. Corey couldn't handle a little teasing, It was quite funny to be there and see it."
Later defending his actions, the Corey Taylor went onto his official Twitter account, calling the man disrespectful, before using the c-word:
He was a cunt. And I've been doin this too long to deal with that disrespect.
Hope you enjoyed the show though! https://t.co/wZdWGstHY0

— Jalapeno Throat, LLC (@CoreyTaylorRock) July 20, 2016
The news comes after the masked frontman recently slapped a phone out of a fan's hand, who appeared to be texting in the front row.
Watch the video, which Slipknot uploaded to their official Facebook page with the caption: "#Eyeless".
Taylor has previously expressed his disdain for those using their smartphone at gigs, saying: "People need to unplug and realise that they're missing their lives".