Sir Paul McCartney Plays Surprise Times Square Show
11 October 2013, 13:58 | Updated: 11 October 2013, 17:11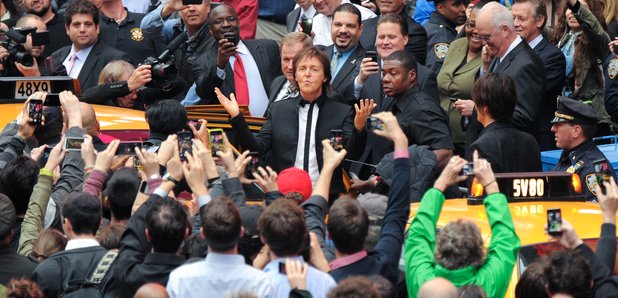 Sir Paul McCartney has played a surprised pop-up gig in Times Square.
He tipped of fans ahead of the show by tweeting:
Wow! Really excited to be playing New York Times Square at 1pm this afternoon!

— Paul McCartney (@PaulMcCartney) October 10, 2013

The former Beatle arrived in the centre of New York in a convoy of yellow cabs at 1pm and played four songs in 15 minutes.



Earlier this week Sir Paul McCartney claimed that he invented the selfie.

The former Beatle also told a US TV chatshow that he was one of the first people ever to do photo bombing back in the 1960s.

Presenter Jimmy Fallon had dug up some classic photos of Macca and asked him to weigh in on them.

His latest album New is out on Monday.