Sir Paul McCartney And Beck Perform Beatles 'Drive My Car' Together For PETA
2 October 2015, 11:25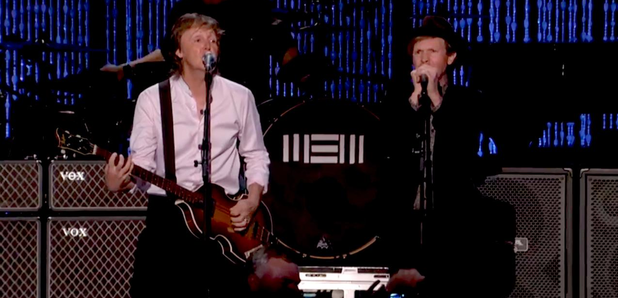 As part of PETA's 35th anniversary celebration, Sir Paul McCartney gave a 90-minute concert while inviting Beck onstage for The Beatles classic Drive My Car.
Sir Paul McCartney told the audience, "When I first heard the name, that's what appealed to me, People for the Ethical Treatment of Animals. I thought that was really a very dignified, very cool title.
"They've got 35 years of saving so many animals. And we love them". Performing a number of hits, including "Let It Be", "Hey Jude", "Lady Madonna", "Drive My Car" (performed with Beck), and an animal rights–themed song that he wrote called "Looking for Changes".
Among the guests who enjoyed a vegan dinner as part of PETA's 35th anniversary celebration were Moby, James Corden, Kesha, William H. Macy, Joanna Krupa, Seth Green, and Dermot Mulroney.
Getting ready to rock the #PETA35 Anniversary party tonight in Hollywood! Photo by @mjkim_lalala pic.twitter.com/ZZEPnNPYhF

— Paul McCartney (@PaulMcCartney) October 1, 2015