Secret Cinema Have Confirmed Their Next Big Project And It's A British Classic...
2 March 2016, 17:19 | Updated: 2 March 2016, 17:25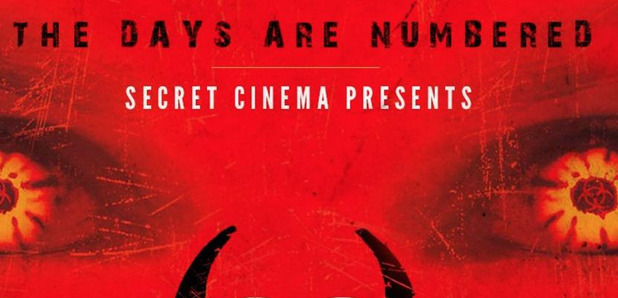 Secret Cinema is about to go apocalyptic for it's first "nationwide" event.
Secret Cinema have announced their next big project, and it looks like they're keeping things British this time around.
The events company - which curates huge movie-themed installations - have taken to Twitter to confirm their next film will be 28 Days Later.
Secret Cinema presents 28 Days Later. London, April 14th - May 29th. Tickets, tomorrow, 1PM https://t.co/40kFMUzzaz pic.twitter.com/LPoyTYdOsw

— secretcinema (@secretcinema) March 2, 2016
Eagle-eyed fans may have already caught the news on 29 February, when this video appeared on their Twitter feed.
#EndlessLove pic.twitter.com/YYXyVmxNTC

— secretcinema (@secretcinema) February 29, 2016
Danny Boyle's 2002 apocalyptic drama, sees a group of people attempt to survive after London is ravaged by the Rage virus.
The film - which stars Cillian Murphy - is pretty much a zombie movie, so fans can probably expect to be chased by rabid-undead
According to the Evening Standard, as well as taking place in London, the event will take place in a yet-to-be announced UK location for the first time ever.
Founder and Creative Director of Secret Cinema, Fabien Riggall, said: "Secret Cinema is excited to step into the world of horror with Danny Boyle's 28 Days Later, a true British horror classic - we look forward to creating a suitably frightening and exhilarating experience."
He added: "Secret Cinema's expansion over the last nine years has been remarkable, we've now created experiences in New York and Berlin, as well as the many in London. But this will be a turning point for us as we embark upon our very first UK nationwide production."
The event will take place from 14 April - 29 May 2016, and tickets go on sale on the Secret Cinema website tomorrow from 1pm.
Last year saw Secret Cinema get the Star Wars treatment, while 2014 showcased the best of Hill Valley's Town Fair with a Back To The Future theme.