Legendary shoegaze band Ride reuniting for tour
19 November 2014, 08:00 | Updated: 20 November 2014, 17:18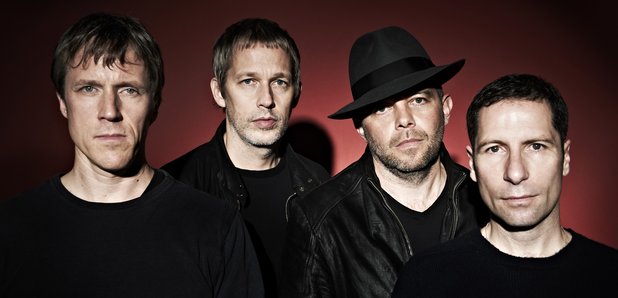 The band, including Andy Bell of Beady Eye/Oasis, will play shows in UK, Europe and America
After rumours of a reunion reached fever pitch yesterday, iconic Oxford shoegaze band Ride have confirmed they're reuniting for a series of live shows. And, speaking to Radio X, they've hinted that the reunion will be a "forward thing" rather than a one-off.

The original line-up of guitarist Andy Bell, singer Mark Gardener, bassist Steve Queralt and drummer Laurence Colbert will play shows including a gig at the Roundhouse before the tour ends with a headline show at the Field Day festival next June.
When Radio X's Sunta Templeton asked singer Mark Gardener how he was feeling about the reunion, he replied: "Rejuvenated. Ready to go, ready for training, ready for practising."
Both Gardener and Bell admitted that they'd "never said never" about a Ride reunion despite the band's acrimonious split in 1996, but revealed that this time everyone's schedules had aligned.
"I guess it's something that's something that's always been there, chipping away like some little devil on your shoulder," said Gardener. "There's a lot of unfinished business there. I can't imagine anything better than playing with Ride again."

Bell, who had been playing with Liam Gallagher's post-Oasis band revealed: "Beady Eye have been on downtime for a bit, so when the offers came in I though it could be good this time…. and then go back and carry on with Beady Eye afterwards. The way it's worked out, Beady Eye has finished and now we're able to think about making Ride a forward thing as well."

The first date will be at Glasgow Barrrowlands on 22 May 2015. "Barrowlands is the ultimate place to kick off anything, because it WILL kick off in there," said Bell. "I remember playing there with Ride and had great gigs with Oasis and Beady Eye, really storming ones. "

The tour will also hit Manchester's Albert Hall before European shows in Paris and at the Primavera festival.

The band formed in Oxford in 1988 and had success with their albums Nowhere (1990) and Going Blank Again (1992), which spawned hits like Leave Them All Behind and Vapour Trail.

Ride 2015 Tour Dates:
22 May 2015 Barrowlands, Glasgow
23 May 2015 Albert Hall, Manchester
24 May 2015 Roundhouse, London
26 May 2015 Paradiso, Amsterdam
27 May 2015 Olympia, Paris
29 May 2015 Primavera, Barcelona
2 June 2015 DanForth Music Hall, Toronto
4 June 2015 Terminal 5, New York
7 June 2015 Field Day, London
Tickets are on sale Friday 21 November at 9am from www.RideMusic.net