Ricky Gervais Announces David Brent UK Tour Dates
5 October 2016, 16:35 | Updated: 5 October 2016, 16:38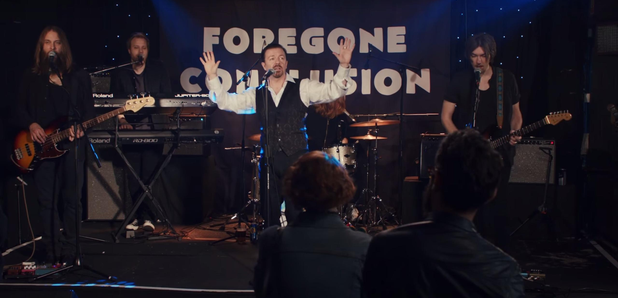 Gervais is taking his Life On The Road soundtrack on the road with The Foregone Conclusion this December.
Ricky Gervais has announced more live UK tour dates for the end of 2016.
The Office creator, who reprised the famous role for his Life On The Road movie, will be playing arenas as David Brent, flanked by his travelling band The Forgone Conclusion.
Fans of the film can expect to hear the likes of Slough, Lady Gypsy and the title track in Bournemouth and Brighton on the 15th and 16th December respectively.
October 5, 2016
Tickets go on sale on Saturday from 10am.
Speaking about touring and releasing music as David Brent on The Graham Norton show, Gervais revealed: "I'm a frustrated, failed musician. It's great because I've got a get out clause.
"It's ironic, but it's still so much fun playing with a rock band."
Watch the video to Lady Gypsy here: