Rage Against The Machine Apologise For Limp Bizkit
30 September 2015, 11:43 | Updated: 30 September 2015, 12:14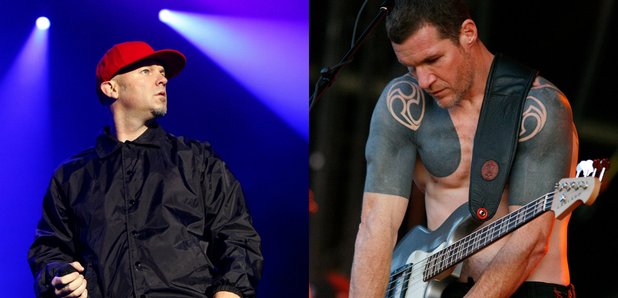 Tim Commerford from Rage has said sorry for inspiring bands like Limp Bizkit, admitting: "I feel really bad...for such bulls**t."
Rage Against The Machine bassist Tim Commerford has sparked a remarkable war of words with Limp Bizkit, issuing an apology for the bad music he says his band inspired.
Fred Durst is known to be a huge fan of Rage, regularly covering Killing In The Name Of at Limp Bizkit shows. At one recent concert in New York, the red-cap wearing rap metal frontman dedicated the cover version to the "band that started this s***".
Rolling Stone magazine put the subject to Tim Commerford in an in-depth interview and he seemed less than impressed with what his group had spawned.
"I do apologize for Limp Bizkit," Commerford says. "I really do. I feel really bad that we inspired such bullsh**."
The bassist has such little regard for Limp Bizkit that he appeared not to even know they'd gotten back together: "They're gone, though," he said. "That's the beautiful thing. There's only one left, and that's Rage, and as far as I'm concerned, we're the only one that matters."
Back in 2000, Limp Bizkit were picking up an MTV award for Best Rock Video, having beaten out their apparent heroes Rage who were nominated for Sleep Now In The Fire. Tim responded by climbing the stage, later getting arrested for it.
Reflecting on the incident, Tim seemed proud: "It's aged like wine."
"What was uncomfortable and a little bit bitter in 2000, now I savour it....I wish I would've swung on that thing and brought it to the ground and just destroyed it.
"If I could do it all over again, I would've ripped that thing to the ground and shredded it."