Radio X Launches New Weekend Line-Up
22 April 2016, 13:59 | Updated: 22 April 2016, 17:35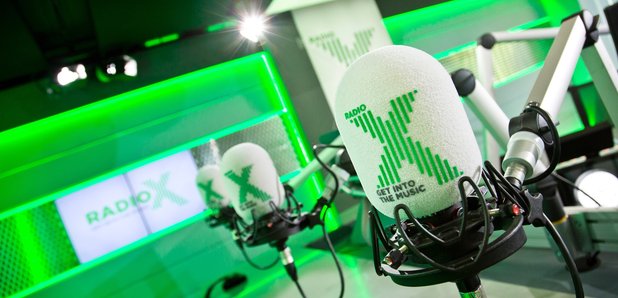 Best Of The Chris Moyles Show gets the weekend started, while Johnny Vaughan hosts brand new sports show every Saturday… Plus! Gordon Smart joins Radio X for Sunday show.
This weekend Radio X will launch its new weekend line-up.
From Saturday 23 April, by popular demand Chris Moyles will get the weekend started with the Best of The Chris Moyles Show every Saturday from 8am. The new show will feature highlights from his weekday breakfast show.
Breaking fresh ground, Johnny Vaughan will present brand new show, The Kickabout, every Saturday from 11am. The Kickabout will combine Vaughan's distinctive take on the latest sporting news with the music Radio X listeners love.
Gordon Smart, editor of The Scottish Sun and incoming deputy editor of The Sun, returns to the air for his own Sunday afternoon show on Radio X. Smart on Sunday will keep listeners in the know with behind-the-scenes news from the world of music, along with interviews from Radio X's most loved bands and artists.
Smart, said: "I can't wait to join Radio X and get on air playing the music that our loyal listeners love, with some big interviews to keep them entertained. Radio X has a brilliant stable of presenting talent and I'm thrilled to be part of the family."
Chris Baughen, managing editor of Radio X, said: "Radio X is home to some of the biggest personalities in broadcasting. It's fantastic to have Gordon returning to radio with a brand new show. With one of the most impressive contact books and huge charisma, I know Gordon will be a big success with Radio X's listeners."
He added: "The Kickabout is going to give sports fan something they've been missing – a show that's more than just scores and fixtures. Johnny's passion for sport and quick wit is going to make the show an unmissable listen."
Hot on the heels of the huge success of Radio X's Best of British poll, which attracted more than 50,000 votes last month, Jo Good hosts a brand new Sunday afternoon show (5pm to 8pm) playing listeners' favourite British songs. Good will also present The X-List, playing epic Radio X classics every Saturday afternoon (4pm to 7pm).
The weekend line-up is completed by the rest of the Radio X team including Kaiser Chiefs frontman Ricky Wilson (Sunday 11am to 2pm), comedians Elis and John (Saturday 1pm to 4pm), Lliana Bird (Friday and Saturday 10pm to 1am), Clint Boon (Sunday 8pm to 11pm) and Communion with Maz (Sunday 11pm to 1am).
Radio X's New Weekend Schedule:
Saturday
01.00 Ross Buchanan
05.00 Jack Saunders
08.00 Best Of The Chris Moyles Show
11.00 The Kickabout with Johnny Vaughan
13.00 Elis James and John Robins
16.00 The X-List with Jo Good
19.00 Dan O'Connell
22.00 Lliana Bird
Sunday
01.00 Ross Buchanan
05.00 Jack Saunders
08.00 Best Of Johnny Vaughan
11.00 Wilson's Week with Ricky Wilson
14.00 Smart on Sunday with Gordon Smart
17.00 The Best Of British with Jo Good
20.00 The X-List with Clint Boon
23.00 Communion Presents with Maz Tappuni
Radio X is home to the world's freshest rock and guitar-based music, playing the greatest records from these genres. Radio X is on 104.9FM in London, 97.7 FM in Manchester and on digital radio right across the UK, on mobile via the Radio X app and online at www.radiox.co.uk.