A University Has Launched USA's First Pizza ATM, And It's Making People Want To Enrol
5 August 2016, 15:17 | Updated: 7 September 2017, 10:50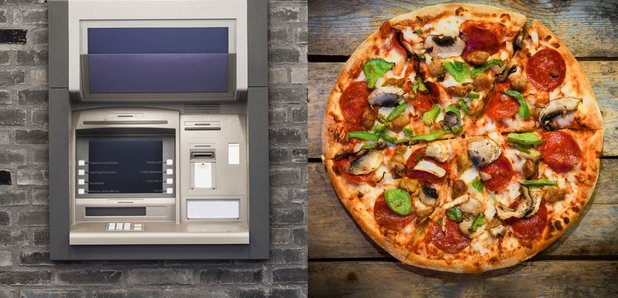 Xavier University in Cinncinati, Ohio has installed the nation's first ever Pizza ATM.
When you're looking for universities, there are so many things to consider. The quality of education, the on-campus facilities... and whether its kitchen can produce pizzas every 3 minutes at any time of the day from an ATM machine.
Well, as ridiculous as it sounds, Xavier University in Cinninatti, Ohio has done just that, ticking the last (pizza) box, by becoming the first establishment in the the US to install a Pizza ATM.
It's a dream come true! The first Pizza ATM is here & is being installed at Xavier University! #paline #pizzaatm pic.twitter.com/OMT06JBLSo

— Pizza ATM (@PizzaATM) August 3, 2016
Isn't technology just beautiful?
Partnering up with French company, Paline, the machine will allow the students to order 12" pizzas of their choice at any time of night from just $9 (£7.31).
Now, we know what you're thinking... How great can a pizza which comes out of an ATM actually be?
Well, from the looks of these pics - it's a lot nicer than some of the Pizzas we gorged ourselves on at Uni.
The very FIRST pizza out of the #pizzaATM at #XavierUniveristy!! pic.twitter.com/ROj6Ik12A7

— Pizza ATM (@PizzaATM) August 3, 2016
Here it is America and @XavierUniv , the #pizzaatm first pizzas! #legendary pic.twitter.com/odYHMcNbtU

— Xavier Dining (@XavierDining) August 3, 2016
And, if like us you briefly imagined a team of cooks constantly stood on the other side of that ATM furiously dishing out pizzas, you'd be wrong.
The clever ATM works just like a mix between a fridge, a vending machine and an Easy Bake Oven, storing pre-cooked bases at 3 degrees celsius, before adding your topping of choice and cooking it all in a convection oven.
Fair play, America.