Legend Makes Christmas Scenes Out Of Pigs In Blankets
12 November 2016, 19:00 | Updated: 7 September 2017, 10:50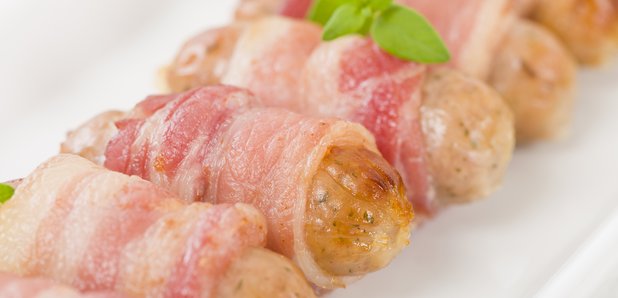 Sian Pearson has been creating the festive scenes since 2012.
Nothing quite says Christmas like pigs in blankets, and it looks like some of you can't get enough of them.
Just want it to be Christmas so I can eats lots of pigs in blankets and drinks lots of champagne /p>— marcia (@MarciaSumbe123) November 7, 2016
Don't know about anyone else but I am buzzing for Christmas dinner. Hand me the pigs in blankets

— Chlo (@Caloeeee_) November 8, 2016
I want to eat my own body weight of pigs in blankets this Christmas

— Zdzislaw (@DavidWitkowskii) November 10, 2016
But every year, one hero seeks to make the sausage and bacon creation even more festive, by using it to create a Christmas scene.
According to the Metro, Pearson's first creation was of the Nativity in 2012, but since then, she's gone on to depict everything form Santa sitting in his sleigh surrounded by reindeer, to a family gathered round a huge Christmas tree.
See one of her moving scenes below:
This woman makes a nativity scene out of pigs in blankets every year and she's my hero: https://t.co/niaznWvSBa

— Siân (@SianElizabethR) November 10, 2016
Beautiful.
Pearson explained that it all began when she was put in charge of the pigs in blankets with her cousin, which didn't exactly stretch their cooking skills.
They soon decided to make it as intricate as they could, by making a centre piece out of the side dish.
Despite the fact that Christmas only comes around once a year, and her 2016 centrepiece is still "TBC," Sian still has plenty to keep her busy as her friends request summer scenes for their birthdays.
However, if Twitter is anything to go by, Pearson isn't the only sausage and bacon-lover to attempt such a feat.
Pigs in blankets are the greatest festive food. And even better when you create a nativity out of them pic.twitter.com/tjeQNGqt

— HT (@HarryTids) December 12, 2012
Roll on Christmas...