The Car From Wayne's World Is Up For Auction
13 October 2016, 11:12 | Updated: 7 September 2017, 10:50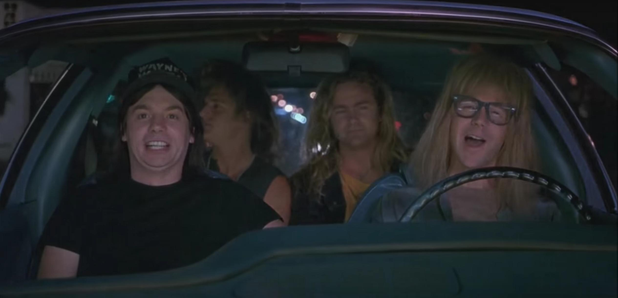 The AMC 1976 Pacer, which features in the film's iconic Bohemian Rhapsody scene, is available to bid for online.
The car from Wayne's World is available to buy at auction.
The 1976 AMC Pacer Coupe, from the cult 90s film - which stars Mike Myers and Dana Carvey - has been listed on Las Vegas auction site Barrett Jackson.
The car - which features in an epic sing-a-long of Queen's Bohemian Rhapsody in the film - was modified for the movie with baby blue paint, speaker boxes, and a hole in the roof for the famous liquorice dispenser.
Watch the iconic scene below:
Classic.
While the car currently has no reserve, it could fetch into the tens or even hundreds of thousands of dollars, as Craig Jackson - the auction company's CEO - explained.
Bloomberg reports that Jackson said of the sale price: "That's always a wild card. The car is selling at no reserve, so we'll have to wait and see.
"We've sold a Mayberry R.F.D. police car here [from the Andy Griffith Show] for $121,000 that was probably a $10,000 car. It just takes two people, two bidders, who remember the movie and want a piece of history."
Those who are interested will have to get a move on, however, as the auction ends in just over 2 days.
Photos: YouTube/Jaroslav Jaro/Wayne's World/NBC films/Barrett Jackson