"We've Got A Visitor, And It's F***ing Huge": Woman Finds 16-Ft Python In Her Home
22 June 2016, 17:08 | Updated: 7 September 2017, 10:50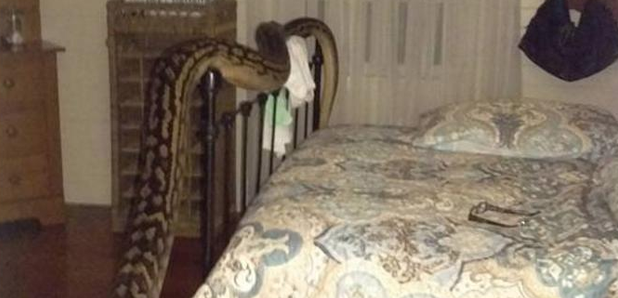 Trina Hibberd found the reptile slithering around her home at 4.30am.
An Aussie woman has become an overnight internet sensation after finding a huge five-metre-long snake in her home.
Trina Hibberd from Queensland, Australia found a 16 foot, 40kg python slithering around her house at 4.30am, and rather than running away and never looking back, she decided to record it instead.
Watch her video below:
And just in case you're wondering why she's calling the snake Monty, it's because the fella's known to hang around the eves of her home and around her roof... which apparently she didn't mind.
We think we'll stick with pigeons and urban foxes, thanks.
According to the resident, not only did the reptile let itself into her house, it also turned on a light before making its way around her guest room, where a friend was staying.
In an interview with Australian TV channel, The Project, the Trina joked: I had no option but to call 000 [the emergency services] and they asked if I wanted Police, Fire or Ambulance and I said 'can I have all three?'".
What Trina actually ended up doing was calling the number for a snake handler, who thankfully took the python to a new home near a rat-infested sewer, otherwise known as "snake heaven".
Phew.