WATCH: Will Smith Boards Helicopter For New Carpool Karaoke Series
16 February 2017, 09:00 | Updated: 7 September 2017, 10:50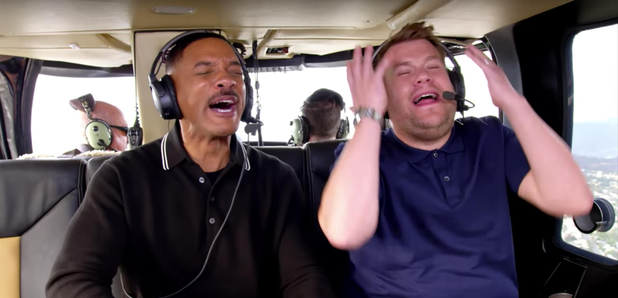 The Late Late Show segment, which has been made into an Apple Music series, also features Metallica.
Apple Music have dropped an over-the-top trailer for their new Carpool Karaoke series.
The clip features James Corden with Will Smith singing his The Fresh Prince Of Bel-Air Theme tune and taking to the sky in a helicopter, while singing R.Kelly's I Believe I Can Fly.
Watch them here:
The teaser also sees stars head out on their own, with Metallica heading singing Rihanna before rocking out at a deli and John Legend donning Pharrell's infamous hat.
Will Smith isn't the only celebs who abandon their car either, with Chelsea Handler getting drunk at a bar with Blake Shelton.
So less Carpool and more karaoke?