WATCH: This Kids Version Of Scarface Is Blowing People's Minds
11 January 2017, 13:46 | Updated: 7 September 2017, 10:50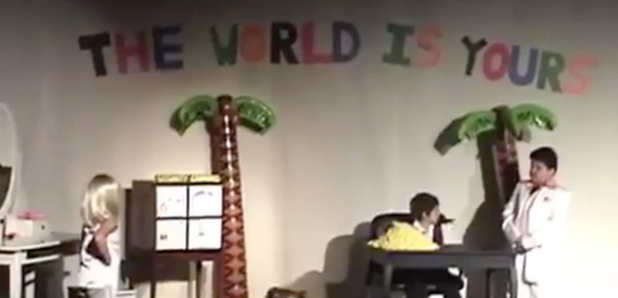 The junior school adaptation of the hit film has prompted mixed responses online.
Anyone who's ever watched Scarface would agree that it is definitely not a kids movie.
Between the violence, the profanity and the ridiculous amounts of white powder everywhere, the iconic 1983 film starring Al Pacino is barely suitable for faint-hearted adults, let alone their children.
But, one brave American junior school saw an opportunity to have a massive laugh, putting on their own adaptation of Scarface on stage and giving their mini Al Pacino a pyramid of popcorn instead of cocaine.
Watch a clip from the play courtesy of Twitter user, StephLdavoski, below:
What school decided that it would be a good idea to do a "Scarface" play? pic.twitter.com/GOdArbWnQz

— Steph LdaVoski (@StephLdavoski) January 9, 2017
Despite the school's efforts to make their version a little more PG by making the kids say "fudge," Twitter isn't having any of it.
See some of their reactions here:
@StephLdavoski Somebody needs to be fired pic.twitter.com/p2xP6s1XXC

— Bradley Justice (@BradleyJustice7) January 10, 2017
@StephLdavoski me watching this... pic.twitter.com/chSw8JkpMX

— Erick Fernandez (@ErickFernandez) January 9, 2017
@StephLdavoski which adults thoughts this was a good idea tho? pic.twitter.com/UE55OEpbRH

— Erick Fernandez (@ErickFernandez) January 9, 2017
However, some people have managed to see the funny side.
@StephLdavoski this is the funniest thing i've ever seen.

— zellie (@zellieimani) January 10, 2017
@ErickFernandez @StephLdavoski oh have some humour. It's hilarious. Stop getting triggered.

— Douglas Joya (@douglasj1894) January 10, 2017
Others remarked that the clip wasn't even from a school play and was intended as a joke all along:
@KiannaBanana @StephLdavoski
The video isn't really from a school play. Issa joke.

— jupitersaurus (@dinoplanet) January 9, 2017
@dinoplanet @KiannaBanana @StephLdavoski seriously; people see like four silhouetted heads and they think it's happening at a school

— Charlsville n Charge (@SirCharlesville) January 9, 2017
Whether or not you agree with the film, one thing for certain is that the kids definitely have talent.
What do you reckon? Is it funny or just plain bad taste?