Watch The Horrifying Moment A Snake Was Actually On A Plane
8 November 2016, 12:42 | Updated: 7 September 2017, 10:50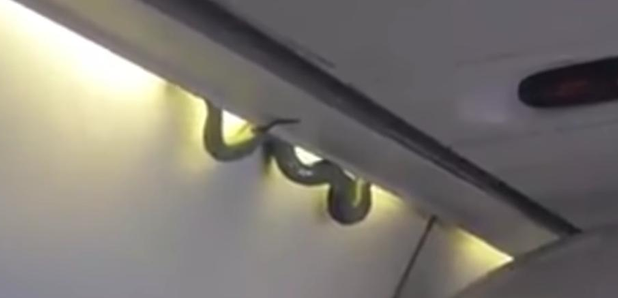 See the clip of the creature on an AeroMexico flight from Torreón to Mexico City.
We've all watched the incredible Snakes On A Plane, but for unlucky passengers who were on a flight to Mexico City, the ridiculous film plot actually became real life.
Travellers got a shock when a live snake was found slithering out of the luggage compartment on an AeroMexico flight from Torreón to Mexico City.
Watch the moment it unfolded here:
Credit: Storyful
The footage was captured on a mobile phone by Indalecio Medina, who dubbed the event as a case of the "flying snake" on his Facebook page.
According to reports, the snake was safely captured and was dealt with by animal control after the plane made a "priority" landing.
Where's Samuel L. Jackson when you need him, eh?
According to Daily Mail, a spokesman for Aeroméxico said: "AeroMexico reports that today, on flight 231 from Torreón to Mexico City, a snake was detected inside the passenger cabin.
"Due to the presence of the animal and following security protocols, the flight was given priority to land at the AICM. Once it had landed, AICM personnel secured the reptile.
"The procedures carried out for this flight are currently being evaluated to determine how the animal entered the cabin and measures have been taken to avoid such incidents in the future.
"For Aeroméxico, the security of its passengers and crew is of the highest priority and it always works to meet the highest quality standards."