WATCH: This Clamp Will Solve Your Bed-Hogging Problems
6 October 2016, 16:45 | Updated: 7 September 2017, 10:50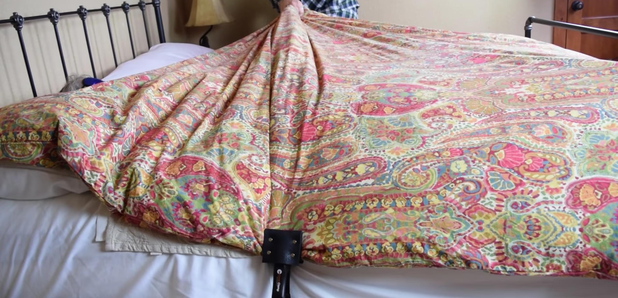 The Cover Clamp could be the answer to your co-sleeping nightmares.
If you're constantly waking up in the middle of the night to find you've been plunged into an arctic hell, you either live with a restless sleeper who accidentally steals your covers, or someone like this:
Whether you're an out and proud duvet-stealer or the poor soul who has to put up with one, there's an invention that could solve all of your problems... patent pending, of course.
The Cover Clamp does exactly what it says on the tin by keeping your duvet clamped to one side of the bed, so the offending sleeping partner can't rip it off you.
Watch how it works here:
Genius.
We do have just one question though. What's the solution if BOTH people like to hog the duvet?
We suppose you could use a clamp on each side of the bed and get tucked in like toddlers each night.
Failing that, you could just do without and live in the knowledge that you deserve each other.
Photo YouTube/Cover Clamp