Watch The Moment Three Brave Pensioners Pinned Down A Burglar
3 October 2016, 16:29 | Updated: 7 September 2017, 10:50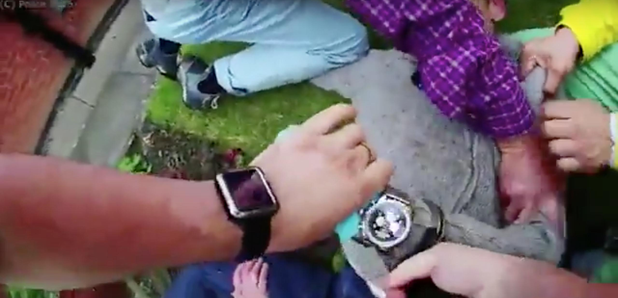 The heroes managed to restrain the thief, while they waited for the police.
Three Derbyshire pensioners have been praised for their bravery after pinning down an attempted thief outside their home.
As Metro reports, Peter Mueller, 70, caught Stephen Ward holding a bag of jewellery at his mother-in-law's house soon after she passed away.
Using what he described as pure adrenaline, Mueller tackled the burglar to the ground with help from his visiting relatives Adly Gorrafa, 81, and Sheila Gorrafa, 78.
Watch the footage, uploaded by HOLNEWS here:
And if that wasn't impressive enough, according to reports the police were after the thief for 18 months.
Speaking to the outlet, Mueller revealed: "When I opened the door in the middle of the house, there was a burglar with a bag in his hand. He was astonished as the door opened.
"He starts to spring out with the bag and, when he went to run past us we stopped him. I took one leg of his so he fell down, and all three of us go on his body and hold him. We cried to the neighbours to call the police.
"When I saw this person, I was full of adrenaline and so we took him down on the ground. I'm 70 years old and the other two people were 78 and 81. With our weight, he had no chance to escape."
The pensioners - who together make up a combined age of 229 years - were awarded for their bravery, while Stephen Ward was sent to jail for 27 months.