These Are The UK's Top 10 Favourite Pies...
15 March 2017, 09:00 | Updated: 7 September 2017, 10:50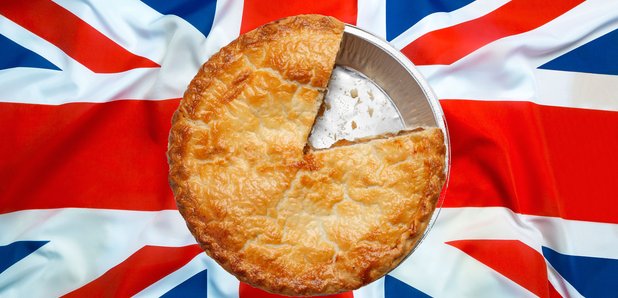 London went a bit rogue though!
Britain is a nation of pie-eaters. Whether they're sweet or savoury, posh nosh or pub fodder - Pie Week is the perfect chance to celebrate our love of the dish.
However, as reported by Lad Bible, the Top 10 favourite pies in the UK have been revealed in a survey by hungryhouse.co.uk, and some of the results are quite surprising.
Thankfully we've not all lost our marbles and the most popular was a conventional steak & ale taking up a respectable 20% of the vote.
The tasty staple was closely followed by steak & potato pie, which took home 17% of the votes.
However, here's where the definition of pie gets a little bit tricky, because some of the dishes featuring on the list aren't actually pies...
A cottage pie - which has no pastry whatsover - managed to come in third place with 15% of the votes, beating out the likes of an apple, pork and a cheese & onion pie.
See the UK's Top 10 favourite pies here:
1) Steak & ale pie (22%)
2) Steak & potato pie (17%)
3) Cottage pie (15%)
4) Chicken & mushroom pie (13%)
5) Apple pie (10%)
6) Pork Pie (9%)
7) Banoffee pie (7%)
8) Pie barm (4%)
9) Cornish pasty (2%)
10) Cheese & onion pie (1%)
More shocking, however, is that when broken down between the North and South, things get really interesting.
Shockingly enough, when it came to the southern part of the country, banoffee pie was a clear winner with an astonishing 43% of the vote, followed by apple pie with 22%. In fact sweet pies made up the majority of their vots.
Naturally, the North was nothing if not traditional, with their Top 5 consisting of all savoury dishes, and steak & ale coming out top with 47% of the vote.
That was closely followed by a pork pie and a pie barm, which had 33% and 10% of the vote respectively.
And yes, a pie barm is really a pie in a roll.
Talk about sticking to your roots,
See the South's Top 5 pies here:
1) Banoffee (43%)
2) Apple Pie (22%)
3) Steak & ale pie (15%)
4) Cottage pie (11%)
5) Chicken & mushroom pie (9%)
Get the North's Top 5 pies:
1) Steak & potato pie (47%)
2) Pork pie (33%)
3) Pie barm (10%)
4) Cottage Pie (7%)
5) Cornish Pasty (3%)