This Twitter Account Is Rating Your Tea, And It's The Most British Thing Ever...
9 August 2016, 13:11 | Updated: 7 September 2017, 10:50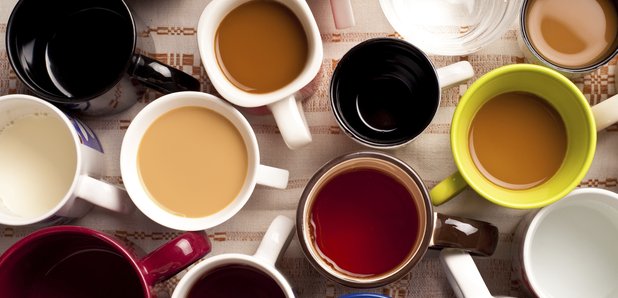 People are sending in moutwatering pics of their perfect cuppa to Rate_My_Tea in the hopes of their seal of approval.
Whether you're a herbal, English Breakfast or Earl Grey lover, there's no doubt that we Brits love a good cuppa.
In fact there's hardly a moment that goes by in the office where the words "fancy a cuppa?" aren't followed by a simple "go on then," shortly followed by an attempt to gulp down the tea we already had.
But how to make a decent tea is somehow still a contentious issue, with people debating everything from colour, to order of ingredients and even what to eat it with.
Finally, a Twitter account by the name of Rate_My_Tea has come along to sort the wheat from the chaff, asking tea-lovers to show off their tea tekkers to the nation.
Despite it only being launched this month, one thing is already abundantly clear...
Some people clearly love a disgustingly milky, anaemic-looking tea:
@Rate_My_Tea @SoVeryBritish @tetley_teafolk bag dipped twice in a water and milk concoction for Emily @Halfords_uk pic.twitter.com/bf1Pre4C3H

— Poppy Douglass (@PoppyDouglass) August 8, 2016
@Rate_My_Tea my tea vs my managers tea pic.twitter.com/ixMcY7uzZZ

— Sam (@SaMundy) August 9, 2016
While some definitely aren't cleaning their mugs enough:
@Rate_My_Tea Tea stained or clean interior? pic.twitter.com/IumPBSVHUm

— Andy Kennerley (@AndrewDK) August 9, 2016
Meanwhile, on the Facebook group... pic.twitter.com/ivC8V3VbHs

— Rate My Tea (@Rate_My_Tea) August 8, 2016
Others just make sure that - when it comes to drinking receptacles - they're bringing their A-game:
@Rate_My_Tea can only be the classic @PGtips, water first then milk for Wonder Woman but Superman does milk first!! pic.twitter.com/CB9kTlgSjC

— Claire Wills (@claire_wills85) August 8, 2016
@Rate_My_Tea just requires a couple of biscuits and then it's a party! pic.twitter.com/w79M8Q3Lgi

— Matt Chalk (@MttChlk) August 8, 2016
@Rate_My_Tea Twinings Lady Grey, Infused 4 minutes with Ototo Tea Sub. Black with twist of lemon. pic.twitter.com/ugMUcnWooS

— Owen Hurrell (@OwenHurrell) August 8, 2016
@SoVeryBritish @Rate_My_Tea that first 'proper cuppa' when you get back from your summer hols. Oooh that's better. pic.twitter.com/w6hifampzx

— bob (@towed_in_a_hole) August 8, 2016
@Rate_My_Tea colour of a monkey's paw. Splash of milk no sugar. Perfect! pic.twitter.com/JdbvbmgyWr

— Steve Hunter (@mumbosteve) August 9, 2016
However, it wasn't enough for some of you to take a picture. Lizzie B decided to show her winning method in a video instead.
@Rate_My_Tea nice and strong in a cute willow pattern mug pic.twitter.com/gIPzAnoEXC

— Lizzie B (@lizziebayliss) August 8, 2016
For a lot of you, the art of drinking tea is nothing if you're not eating with it too.
@Rate_My_Tea Earl Grey, summer fruit, and lattemiele. pic.twitter.com/m0bxRNI24U

— Mary Peters (@MaryMaryQ3) August 8, 2016
@Rate_My_Tea @SoVeryBritish
Pot of tea for one, with scones, cream & jam, whilst enjoying the afternoon sunshine pic.twitter.com/3IttTZseaz

— Kirsty Hunt (@KirstyAnneHunt) August 7, 2016
@WaigyBaird @Rate_My_Tea snap pic.twitter.com/zIqxG4GAGs

— rantingrestaurateur (@RestaurantsRant) August 7, 2016
One helpful user by the name of Moxie McMurder even provided a useful colour-chart, to prove all shades of tea are valid in their own right.
@VoxPopple @Tea_Wench @DarthLordi Interesting... pic.twitter.com/mYCQQtkeGq

— Moxie McMurder (@MoxieMcMurder) August 8, 2016
We think we're somewhere between an Iron Brew and a Nigerian Sunset.
Now, if that doesn't make you fancy a proper brew, what will?
Unless, like some of the few Brits out there, you don't like tea in any form...