WATCH: Tiger Saves Man From Pouncing Leopard… As Lions Look On!
18 August 2016, 08:00 | Updated: 7 September 2017, 10:50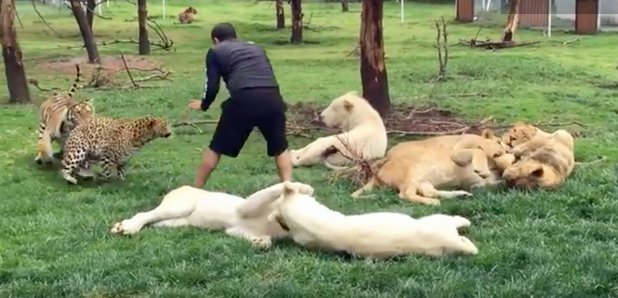 You read that right. It's always good to know that a tiger's got your back.
Think you've seen everything there is to seen on YouTube? Of course you haven't. There's so much left to see.
Radio X's current obsession is with this amazing clip of a man working with lions in Mexico, giving one of the big cats a good old belly rub.
As he concentrates on his feline pal, a leopard emerges from the background and begins to stalk him…
Watch what happens next. You won't believe it.
The tiger jumps to the guy's rescue and chases the leopard away… And the whole crew settle down again without incident.
Or that's how it seems. The man is Eduardo Serio of the Black Jaguar-White Lion Foundation in Mexico. The tiger is named Aztlan and the leopard's name is Dharma.
Eduardo rescued Dharma from an unscrupulous owner who wasn't treating the big cat well and has raised him as one of his own. He claims the animal was "play-stalking" and that the tiger was joining in the game!
Phew, thank goodness for that. Not sure we'd join in that sort of cat-based fun.
It's all part of the work of the conservationist, whose foundation currently cares for over 200 big cats, including lions, tigers, leopards, pumas, lynxes and many more, who have been found mistreated and abused.
For more of their work, see www.facebook.com/jaguarandtiger