The Self-High-Fiving Selfie Is Officially A "Thing"
10 October 2016, 16:13 | Updated: 7 September 2017, 10:50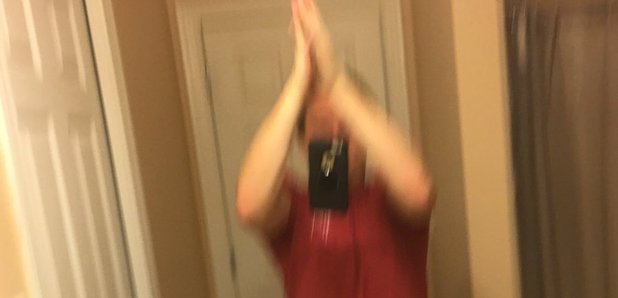 The latest social media fad is a triumph of will over gravity… but plenty of people are achieving it.
Have you ever taken a selfie… while high-fiving yourself?
It's not as easy as it sounds… because who's holding the camera?
Seth Schneider, a student at North Carolina State University appears to have coined the social media sensation on Saturday (8 October), when he tweeted a photo of himself in a mirror… high-fiving himself.
Today is the proudest day of my life. I successfully took a picture of me high fiving myself pic.twitter.com/tCZ53T5JSx

— Seth Schneider (@TOSUBUCK) October 8, 2016
Since Schneider first shared the tweet, it's gone viral with more than 400,000 likes and 160,000 retweets.
And other people have been quick to copy this key achievement in the history of mankind…
@_grace017 @TOSUBUCK nah idk what you're talking about I'd never do that pic.twitter.com/BwtQmhaSIO

— Tyler the Creator (@MisterTC3) October 10, 2016
@ZoeMcLane_96 @TOSUBUCK you were saying.... pic.twitter.com/Dtcdy75SUS

— connor (@TheOfficialC32) October 10, 2016
. @TOSUBUCK it's 3am and I literally just got out of bed & spent 15 minutes trying to get a pic of me high-fiving myself. so thanks. pic.twitter.com/pHRFWfbJ7m

— Megan Hayes (@megan_e_hayes) October 10, 2016
HIT THEM FOLKS DONT STOP AYE pic.twitter.com/wMSLagZjoy

— Lokness Monster (@Mandylok530) October 10, 2016