This Teen Put Glasses Down In A Gallery And People ACTUALLY Thought It Was Art...
27 May 2016, 12:00 | Updated: 7 September 2017, 10:50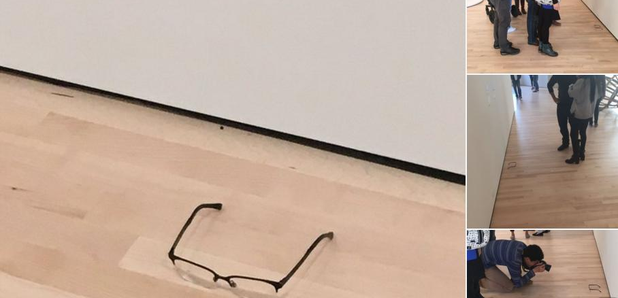 TJ Khayatan and his friends weren't that impressed with some of the art they saw, so they made an installation of their own.
They say art comes down to personal interpretation, so when a teen played a classic prank on unsuspecting gallery-goers, it was unsurprising that he managed to pull it off.
As Buzzfeed reports, TJ Khayatan from San Francisco and his friends visited the San Francisco Museum of Modern Art they and decided to put a pair of glasses on the ground to see what would happen.
See their hilarious results below:
LMAO WE PUT GLASSES ON THE FLOOR AT AN ART GALLERY AND... pic.twitter.com/7TYoHPtjP8

— teejay (@TJCruda) May 24, 2016
Speaking to Buzzfeed, TJ explained: "Upon first arrival we were quite impressed with the artwork and paintings presented in the huge facility.
"However, some of the 'art' wasn't very surprising to some of us."
And that's how the glasses trick was dreamt up.
TJ has already been interviewed for TV, and now one Twitter user is even trying to get Ellen Degeneres on board.
@nbcbayarea just interviewed us! pic.twitter.com/cfzmbhuiPB

— galaxy (@k_vinnnn) May 26, 2016
@TJCruda @TheEllenShow you need to see this

— Mari Gutierrez (@marilolhottie18) May 27, 2016
We're not sure if TJ's a budding comedian or actually a Damien Hirst in the making.
After all, is art a metaphor of symbol of society looking back at us?
Tell us what you thin of his "masterpiece" below:
Picture: Twitter/TJ Khayatan